The rise in the USD/JPY has been consistent and strong over the last month. I wrote about it in several posts with the latest after the pair had pushed past the 100 barrier (
11/21 - Having Slayed the 100 Level, Are July Highs and Beyond Next?
). So far, so good.
I wanted to update and look at the key levels the pair now faces and will keep it fairly simple by looking at the weekly chart.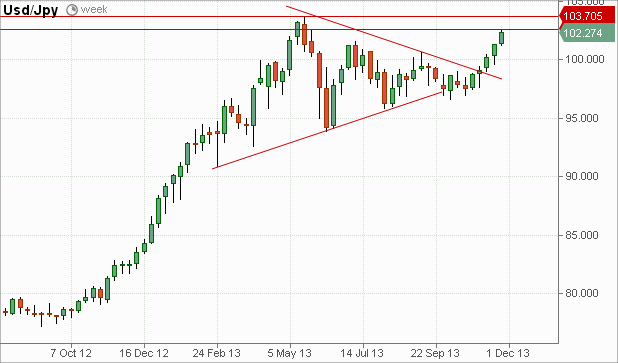 As we can see above, the USD/JPY pair has broke out of its triangle/wedge pattern and the last 3 weeks have seen a consistent rally.

We now come to test the 102.50 level, which was an important pivot during the topping action back in May. So, its important to note as this could provide some resistance for the pair.

After 102.50 however, the road is open for 103.70, July's highs.
Depending on just how the macro situation in the US and Japan and the monetary policies between the Fed and the BOJ develop, we could have a situation in which the Dollar pushed past that important 2013 high.