Mylan N.V. MYL reported disappointing third-quarter 2017 results wherein both earnings and sales missed estimates due to lower EpiPen sales.
The company reported earnings of $1.10 per share, which missed the Zacks Consensus Estimate of $1.22 and was down from $1.38 reported in the year-ago quarter.
Third-quarter revenues of $2.98 billion missed the Zacks Consensus Estimate of $3.08 billion and were down 2% from the year-ago quarter.

Mylan's stock has tumbled 6.3% year to date compared with the industry's decline of 30.5%.
Quarter in Detail
The company report results in three segments on a geographic basis — North America, Europe and Rest of World.
North America segment third party net sales came in at $1.17 billion, down 22% due to a decline in sales of existing products as a result of lower volume and pricing, partially offset by the contribution from new products. The generics business in North America experienced higher price erosion than previous quarters, including the impact of the loss of market exclusivity of armodafinil. Sales of the EpiPen Auto-Injector plunged significantly (a decline of $245.1 million) as a result of the impact of the launch of the authorized generic and higher governmental rebates.
Third party net sales from Europe were $1.04 billion, up 24% propelled by the acquisition of Meda, new product introductions and favorable volume and pricing on existing products. Favorable foreign currency translation had an impact of 5% within Europe.
Rest of World segment third party net sales of $743.3 million was up 9% fueled by the Meda acquisition. Sales also benefited by new products and increased net sales in emerging markets, which were driven primarily by higher volumes which were partially offset by lower pricing and volumes on existing products from anti-retroviral franchise, including active pharmaceutical ingredients. Foreign currency translation had a favorable impact of 1%.
Adjusted gross margin declined to 53% from 57% in the year-ago quarter due to lower gross profit from the sales of existing products in North America, including the EpiPen Auto-Injector, partially offset by the contributions from the acquired businesses.
Mylan N.V. Price and Consensus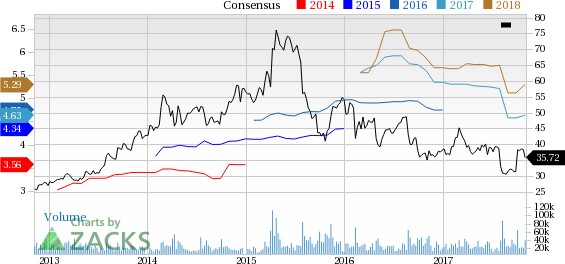 2017 Outlook Updated
Mylan raised the lower end of sales guidance due to the launch of the generic version of Copaxone. The company now expects revenues of $11.75-$12.5 billion in 2017, up from the earlier projection of $11.5-$12.5 billion. The company now projects earnings per share in the range of $4.45-$4.70, up from the previous projected range of $4.30-$4.70.
We note that Mylan has already won FDA approval for a generic version of Teva Pharmaceuticals TEVA Copaxone 40 mg. Notably, this is the first generic of Copaxone that has been approved. Since Mylan was one of the first applicants to submit a substantially complete ANDA for glatiramer acetate Injection, 40 mg/mL, containing a Paragraph IV certification, the company and other first filers may be eligible for 180 days of generic drug exclusivity.
Our Take
Mylan's third-quarter results were dismal as the company missed on both earnings and sales estimates due to challenges in North America. The quarter experienced an accelerated decline in EpiPen sales due to the launch of an authorized generic as well as the contraction of the overall epinephrine auto-injector market.
The company earlier suffered a few setbacks. Mylan received a complete response letter from the FDA regarding its abbreviated new drug application ANDA for the generic version of GlaxoSmithKline plc's GSK asthma drug Advair Diskus and is working to address the issues. The FDA Oncologic Drugs Advisory Committee unanimously recommended the approval of biosimilar version of Roche Holdings RHHBY Herceptin. However, the anticipated FDA goal date set under the Biosimilar User Fee Act was deferred to December from September 2017.
Zacks Rank
Mylan currently carries a Zacks Rank #2 (Buy). You can see the complete list of today's Zacks #1 Rank (Strong Buy) stocks here.
Wall Street's Next Amazon

Zacks EVP Kevin Matras believes this familiar stock has only just begun its climb to become one of the greatest investments of all time. It's a once-in-a-generation opportunity to invest in pure genius.

Click for details >>
Want the latest recommendations from Zacks Investment Research? Today, you can download 7 Best Stocks for the Next 30 Days.
Click to get this free report
Roche Holding AG (RHHBY): Free Stock Analysis Report
GlaxoSmithKline PLC (GSK): Free Stock Analysis Report
Teva Pharmaceutical Industries Limited (TEVA): Free Stock Analysis Report
Mylan N.V. (MYL): Free Stock Analysis Report
To read this article on Zacks.com click here.
Zacks Investment Research