Iron ore will drop to $75 a metric ton in the second half of next year as rising low-cost supplies from Australia and Brazil worsen a global glut and the slowdown in China's property market curbs demand growth, said CLSA Ltd.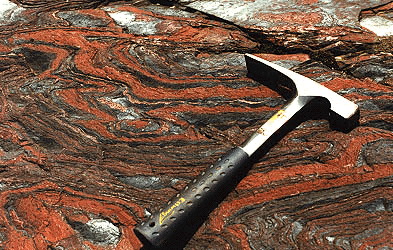 The commodity used to make steel will average $80 a ton in 2015, down from an earlier full-year estimate of $85, and $75 a ton in 2016 and 2017, down from estimates of $80 for both years, according to a report from analyst Ian Roper dated yesterday. By quarter, prices were seen at $90 in January-to-March next year, $80 in the second quarter and $75 for the final two three-month periods, according to the report.
Iron ore lost 35 percent this year as producers including Rio Tinto Group (RIO) expanded low-cost supplies, pushing the market into a glut. New-home prices in China, which buys about 67 percent of seaborne ore, fell in July in almost all cities that the government tracks, boosting concern that economic growth is faltering. While demand for iron ore was sluggish, supply is spectacular, Roper wrote in the report for the unit of Citic Securities Co., China's largest brokerage by market value.
"The oversupply situation is only going to worsen over the next few years," said Singapore-based Roper, who's covered the market since 2001. The property-market slowdown in China "looks increasingly serious for steel demand next year," he said.
Ore with 62 percent content at the Chinese port of Qingdao dropped to $87.62 a dry ton on Aug. 29, the lowest level since October 2009, according to Metal Bulletin Ltd. The price, which was at $87.79 a ton yesterday, averaged about $94 a ton this quarter compared with $121 in the first three months of 2014.
Goldman's View
The forecasts from CLSA are in line with the view from Goldman Sachs Group Inc., which predicts that the raw material will average $80 a ton next year. Morgan Stanley and Citigroup Inc. expect prices to average $90 next year.
"For the first time in over a decade, the need to eliminate iron ore supply, rather than incentivize it, is determining prices," said Roper. About 200 million tons of higher-cost capacity may exit the market as prices drop toward $80 a ton in the first half of next year, he said.
Increased production in Australia and Brazil will help to add about 94 million tons of new supply in 2015 from 155 million tons this year, CLSA estimates. A further 75 million tons will be added in 2016 and 81 million tons in 2017.
That won't all be absorbed by China as steel consumption growth, the driver of demand for iron ore, slows. While the world's second-largest economy will import an additional 80 million tons of ore next year, that'll drop to 15 million tons in 2016 and 6 million tons in 2017, Roper said.
Declining prices will prompt the closure of higher-cost supplies in China and from 2016 onward, some seaborne producers, CLSA said. China's output would drop from about 340 million tons in 2013 to a sustainable level of 200 million tons, Roper said.
"From 2016, the story of the iron ore market will switch from being one of displacement of Chinese high-cost supply, to being one of displacing marginal seaborne supply," he said.