Looking for more expert commentary and daily trading ideas on NFLX? Find out how you can use this deal to get started on our Benzinga Professional news and data platform today.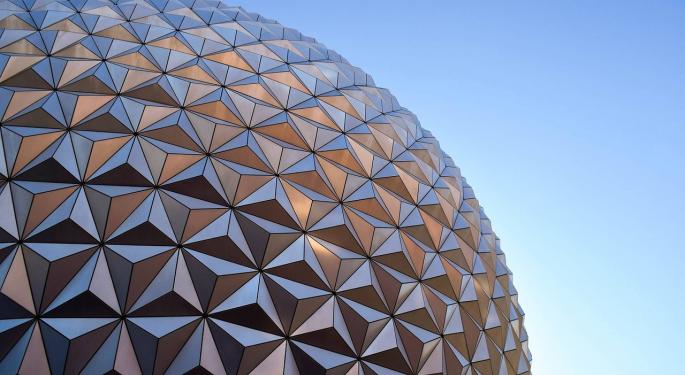 On the surface, Walt Disney Co DIS 0.54% and Netflix, Inc. NFLX 0.64% seem to have very little in common. Disney is one of the juggernauts of traditional TV media, and Netflix is the major TV disruptor primarily responsible for the cord-cutting phenomenon that is driving rivals like Disney crazy.
Netflix stock is a steeply-priced growth/momentum play, while Disney stock is a reasonably-valued dividend play.
Yet on August 22, 2011, the split-adjusted share prices of the two stocks were both right around $32 per share. Today, five years later, Disney and Netflix are both trading right around $96 per share.
Benzinga took to Twitter to ask traders which stock they believe will be the best long-term play from here.
According to the Twitter poll, 61 percent of traders see Disney is the better long-term investment, while 39 percent see Netflix as the better buy at this level.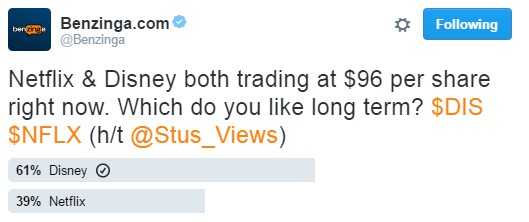 Regardless of which stock you believe is the better call looking forward, both Netflix and Disney have been excellent investments in the past five years. The stocks' 220 percent-plus gains are nearly double the 114 percent move by the SPDR S&P 500 ETF Trust SPY in that time.
So far this year, however, Disney and Netflix are down 8.2 percent and 16.9 percent, respectively.
© 2016 Benzinga.com. Benzinga does not provide investment advice. All rights reserved.
Source