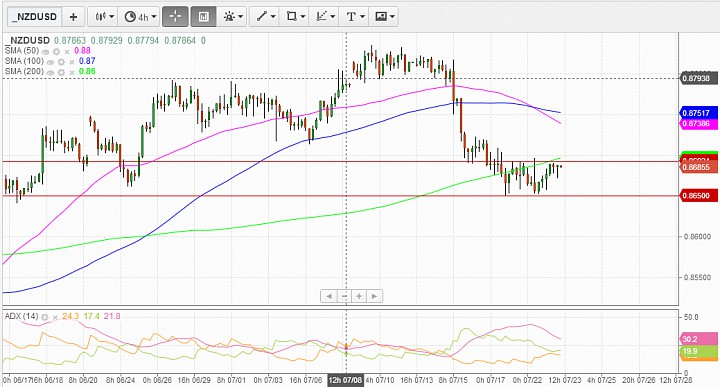 NZDUSD : 4 Hour Chart
NZDUSD today rising after finding support from the previous support level at .8650. The Reserve Bank of New Zealand is due to release its monthly policy statement later today at 5:00 PM EDT. The pair was declining earlier because of the geopolitical tensions in Ukraine and Gaza strip. The central bank is expected to raise its interest rate by .25% in its policy meeting scheduled today. The bank raised its rates from 3% to 3.25% last month and suggested that the borrowing cost might raise again this year.
Well looking at the 4 hour chart, NZDUSD seems like testing resistance at .8692. However the movement of 50 day SMA below the 100 day SMA and towards the 200 day SMA is signaling that the pair might continue to decline. So the pair might break below the support at .8650.