Ubiquiti Networks (NASDAQ: UBNT) reported Q2 2017 earnings earlier this month, and the market reaction was brutal, with the company selling off more than 20% since the report. At first glance, the quarter was not particularly bad, with revenue beating expectations, however, the quarter's EPS of $0.72 missed estimates by $0.05. While increased operating expenses were partly to blame, they were only 11.8% of sales, well within the company's long-term target.
Gross margins, however, were a different story, falling to 44.6% from 48% in the previous quarter and down from 48.4% from a year ago.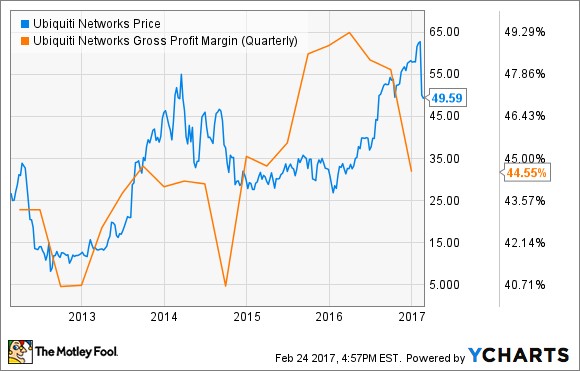 As you can see, the previous dips in gross margin accompanied dips in price, as these previous instances correlated with down quarters and product cycles. Many analysts have long wondered if Ubiquiti's high margins were sustainable. Many compare Ubiquiti to Netgear (NASDAQ: NTGR), whose gross margins are a mere 28% , far below those of Ubiquiti's enterprise peers, and they no doubt fear that this past quarter may be the first indication of margin compression for the company.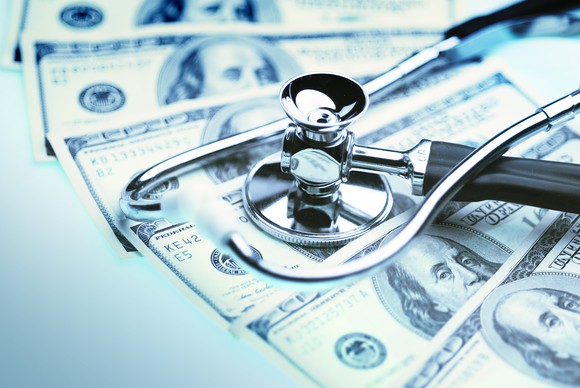 What does Ubiquiti's financial health look like? Image source: Getty Images
Unsurprisingly, the first question on the Feb. 9 conference call was centered on margins. CEO Robert Pera had several justifications for the quarter's margin performance.
Aggressive AmpliFi pricing
Ubiquiti is being aggressive in entering a new segment. As Pera explained on the latest conference call, transcript by Seeking Alpha: "As you know, in the history of the company, we never dropped prices, but we very aggressively go after new markets. And a few things happened this quarter. First of all, AmpliFi, our pricing was very aggressive out of the gate ..."
Indeed, the new AmpliFi home Wi-Fi system has been getting stellar reviews, yet it is priced cheaper than lower-speed incumbents such as Netgear's Orbi. To be sure, Ubiquiti is late to the consumer game, so the company...
More