Confused by the most recent collapse in Emerging Markets, which if it hasn't approached the tumble experienced in the first Taper Tantrum, will do so soon enough? Don't be. The following two charts should put everything in perspective and yes, it has nothing to do with the soaring US Dollar (because said surge will end soon enough once everyone grasps that Fed QE is coming right back) and everything to do with the slowdown in Chinese credit creation.
First, a quick thought from Goldman:
A major headwind to EM GDP growth has been the slowing of China's economic growth. During the early 2000s, China was a primary driver of broad EM growth, posting real GDP growth above 14% in 2007. China has become increasingly important, as evidenced by the rising correlation between China's growth and "EM ex-China" growth, which has been steadily increasing since the early 1990s. Given the widely accepted view that China's GDP growth is set to slow in coming years investors are searching for a new source to accelerate EM growth vs. DMs.
In other words: EM growth is first and foremost about what that epic, until recently at least, creator of $25 trillion in credit inside money is doing (or not doing as the case right now is).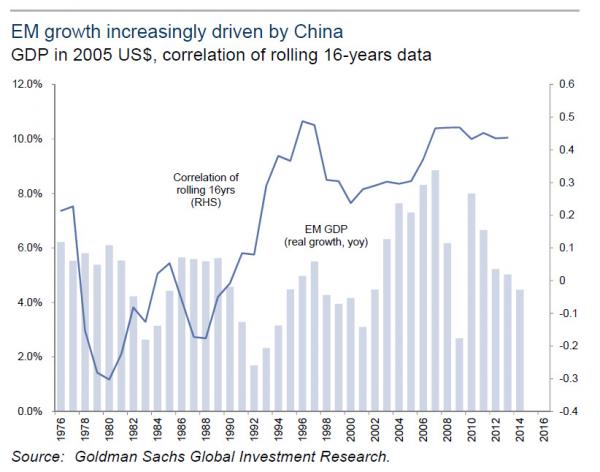 So what is China doing? As per the Goldman wavefront basket showing the real time change in various economic growth indicators, something very quick and sudden: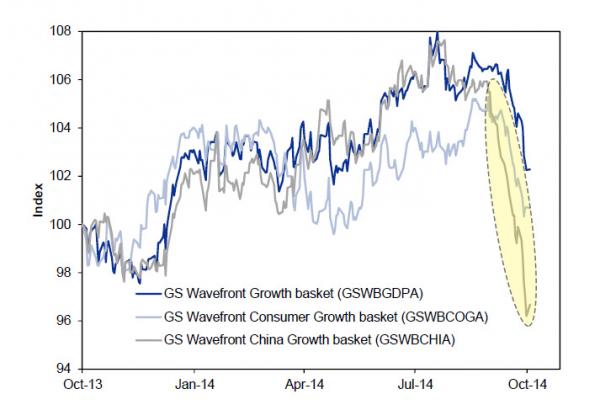 Oops.
Bottom line: either China restarts its $1 trillion/quarter credit creation dynamo, which it can't as it is already full to the brim with NPLs and has long-crossed the point of Ponzi Finance in the Minsky diagram, or the EMs get it.... followed promptly thereafter by the DMs. After which we give the Fed 4-6 weeks before it returns to doing the only thing it does well: print.