IBM has been bullish in 2016 after forming a double bottom in January-February.

IBM Daily Chart 10/13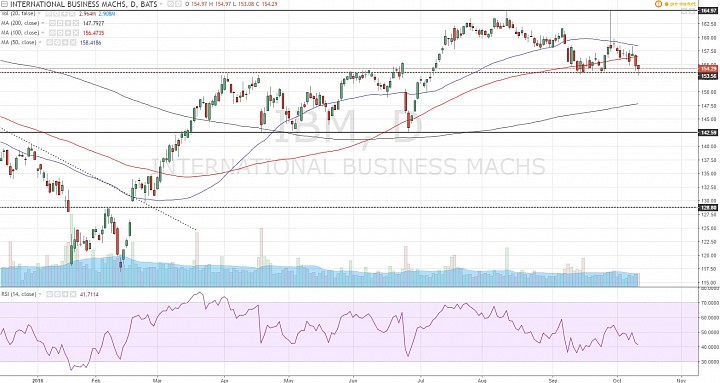 (click to enlarge)

The uptrend has stalled:
- As we can see in the daily chart, the bullish trend in 2016 consisted of really 2 swings, one that started in February and ended in April, and the another that started in June and ended in August. 
- After these 2 swings, price retreated from 165.00. 
- Another attempt to test this area quickly found resistance again.
- Price has retreated to find buyers in the 153.50 support/resistance pivot area. 

Bearish outlook:
- The fact that the bears defended the 164-165 area as resistance so strongly suggest the prospect of a price top.
- A break below 153.50 would further confirm the price top and at least open up the next key support around 142.60.
- When we look at the weekly chart, we can see that IBM is in a bearish market from 2013 to 2016. Perhaps, this year's uptrend was simply a correction to the prevailing downtrend.

IBM Weekly Chart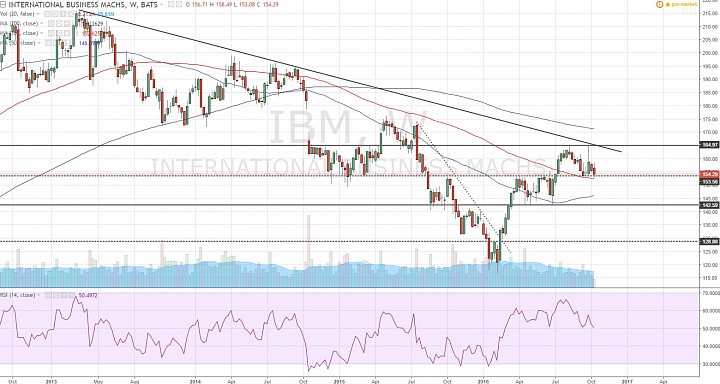 (click to enlarge)
Long-term trendline resistance:
- The weekly chart shows price being challenged by a falling trendline that comes down from the 2013 high around 215. 
- The reaction so far suggests that this prevailing 3-year downtrend is still in play. 
- With the bearish winds on its back, IBM looks pressured to indeed fall towards at least 142.60. Even with a conservative outlook, we can anticipate a test of the 140 handle. 
- Even the bearish outlook to 120 is NOT out of the question.

Caution against the V-shape reversal:
- The only thing is, the rally in 2016 looks like a V-shape reversal, so I want to consider the possibility that IBM is in the process of a long-term bullish reversal.
- In this scenario, there could still be a bearish swing within the "accumulation" phase of a bullish reversal, but it might not go back down to the 2016-lows before finding support.  
- Finally it should be noted that the RSI pushed above 60 this time. It has been holding under 60, which reflects maintenance of the bearish momentum. In 2016, we can say that this bearish momentum has cracked, although we don't see any bullish momentum yet .