Retail real estate investment trust (REIT), Kimco Realty Corporation's KIM first-quarter 2017 funds from operations (FFO) as adjusted came in at 37 cents per share, in line with the Zacks Consensus Estimate. The prior-year figure was also the same.

Total revenue for the quarter was $293.6 million, down 1.2% from the year-ago quarter. Adjusted revenues came in at $289.4 million, down 1.3% from the year-ago quarter. The Zacks Consensus Estimate for revenue was $289 million.

During the reported quarter, the company recorded strongest leasing volume in the past decade.

Quarter in Details

During the quarter, the company inked 497 new leases, renewals and options, encompassing an area of 4.3 million square feet. This marks the highest leasing volume in any quarter in the last decade.

At quarter end, pro rata occupancy came in at 95.3%, reflecting a contraction of 10 basis points (bps) sequentially.

Same property net operating income (NOI) climbed 2.2% year over year. Pro rata rental-rate leasing spreads moved north 10.9%, with rental rates for new leases and renewals/options, increasing 17.9% and 10.1%, respectively.

Balance Sheet Position

Kimco exited first-quarter 2017 with cash and cash equivalents of around $167.5 million, up from $142.5 million at year-end 2016.

Notably, during the quarter, the company issued a new $400 million unsecured notes with a coupon of 3.80%. Also, the company closed a new $2.25 billion unsecured revolving credit facility with a rate of LIBOR plus 87.5 basis points.

Portfolio Activity

During the quarter, the company disclosed acquisitions of two operating properties for $43.1 million and a purchase of 90% ownership stake in a new mixed-use development project for $10 million.

On the other hand, the company's first-quarter sales aggregated $113.2 million, with Kimco's share being $65.8 million. This involved the disposition of eight shopping centers, aggregating 948,000 square feet of space and one land parcel.

Guidance

Kimco has reaffirmed its outlook for 2017. The company projects FFO as adjusted per share in the $1.50–$1.54 band. The Zacks Consensus Estimate is currently pegged at $1.53.

Notably, the company estimates the portfolio occupancy in the range of 95.8–96.2%, same-property NOI (including redevelopments) to grow 2–3%, operating property acquisitions of $300–$400 million and dispositions of $250–$350 million.

Dividend Update

Kimco's board of directors announced a quarterly cash dividend of 27 cents. The dividend will be paid on Jul 17, 2017, to shareholders of record as of Jul 6.

Our Viewpoint

With premium properties in high-income and high-growth areas, Kimco is well poised to grow.

However, mall traffic continues to suffer amid a rapid shift in customers' shopping preferences and patterns with online purchases growing by leaps and bounds. These have made retailers reconsider their footprint and eventually opt for store closures. Further, retailers not being able to cope with competition, are filing bankruptcies. This has emerged as a pressing concern for retail REITs like Kimco, as this trend is curtailing demand for the retail real estate space considerably.
Kimco Realty Corporation Price, Consensus and EPS Surprise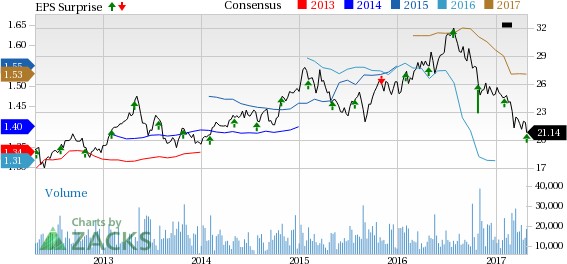 Kimco Realty Corporation Price, Consensus and EPS Surprise | Kimco Realty Corporation Quote
Kimco currently has a Zacks Rank #4 (Hold). You can see the complete list of today's Zacks #1 Rank (Strong Buy) stocks here.

We now look forward to the earnings releases of GGP Inc. GGP, Vornado Realty Trust VNO and HCP, Inc. HCP, which are expected next week.

Note: All EPS numbers presented in this write up represent funds from operations (FFO) per share. FFO, a widely used metric to gauge the performance of REITs, is obtained after adding depreciation and amortization and other non-cash expenses to net income.

The Best & Worst of Zacks

Today you are invited to download the full, up-to-the-minute list of 220 Zacks Rank #1 "Strong Buys" free of charge. From 1988 through 2015 this list has averaged a stellar gain of +25% per year. Plus, you may download 220 Zacks Rank #5 "Strong Sells." Even though this list holds many stocks that seem to be solid, it has historically performed 6X worse than the market. See these critical buys and sells free >>    
 
Want the latest recommendations from Zacks Investment Research? Today, you can download 7 Best Stocks for the Next 30 Days.
Click to get this free report
Kimco Realty Corporation (KIM): Free Stock Analysis Report
General Growth Properties, Inc. (GGP): Free Stock Analysis Report
HCP, Inc. (HCP): Free Stock Analysis Report
Vornado Realty Trust (VNO): Free Stock Analysis Report
To read this article on Zacks.com click here.
Zacks Investment Research