Data on U.S. oil rigs could be interesting Friday afternoon, if they show another week of increased activity.
Baker Hughes rig data are released at 1 p.m. ET, and they come in a week where oil crossed $51 for the first time since since July 2015. At $50 per barrel, analysts have expected to see a return of some drilling activity, and last week's data showed nine oil rigs were added. That makes a total of just 10 new rigs this year.
"It's going to be a big deal. If there's a jump of double digits, it's going to be significant. Anecdotal reports show there's some activity in the Permian Basin, in particular, where the breakevens are about $35," said John Kilduff, partner with Again Capital.
There is also consumer sentiment at 10 a.m. ET, and it is expected to dip slightly to 93.5 from 94.7. The Federal budget is released at 2 p.m. ET.
Stocks had their first negative day in four on Thursday with the S&P 500 down three points to 2,115. At the same time, Treasury yields continued to decline across the curve as global bond yields fell. The German 10-year Bund was yielding a low 0.03 percent. The yield on the U.S. 10-year note continued to trade just above the lowest levels of the year and was at 1.68 percent in late trading.
Traders have been waiting to see if the S&P can break above its all-time high of 2,132, even after last week's disappointing May jobs report.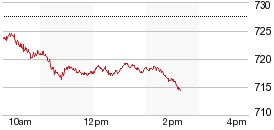 However, Thursday's sell-off was a positive, according to Scott Redler, partner with T3Live.com. "It burnt off some of the overbought conditions. The market was definitely overbought," said Redler, who watches the...
More