With the activewear trend still going strong, Nike appeals to teens way more than other apparel brands.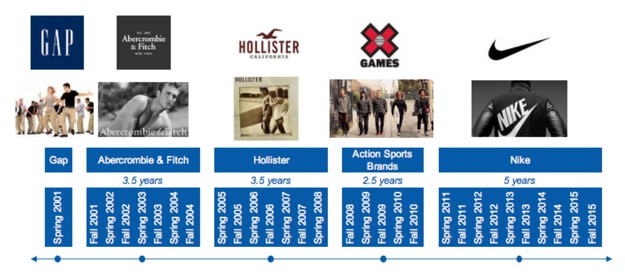 Piper Jaffray / Via piperjaffray.com
Activewear. Activewear. Buying groceries in my activewear.
Gone are the days of Abercrombie and Gap dominance. These days, Nike reigns supreme among American teens, according to a new survey by investment bank Piper Jaffray.
Among those from upper-income households, a coveted consumer group, about 27% listed Nike as their preferred clothing brand, followed by just 7% picking Forever 21, and 6% naming American Eagle, the firm said in a report. About 21% of teens from average-income households also chose Nike as their top clothing brand, with 8% picking American Eagle.
Nike has been the favored clothing brand among teens in Piper Jaffray's survey for the past five years, following periods of dominance by action sports brands, Hollister, Abercrombie and Gap. Nike is also the No. 1 brand for shoes in the survey.
The Beaverton, Oregon company recently reported more than $30 billion in annual sales, topping the revenue of Macy's and TJX, which owns T.J. Maxx, Marshalls and HomeGoods.
Broadly, the numbers suggest the rise of "athleisure" — or activewear — will only continue with this today's teen generation (who, by the way, are younger than the "millennial" demographic). Piper Jaffray's spring survey noted that 16% of teen girls from upper-income households said their preferred brand was a "fashion athletic" label, compared with only 1.5% in 2009.
Some other interesting points from the survey: preppy apparel maker Vineyard Vines made it into the top 10 of preferred clothing brands for the first time, while Birkenstock made it into the top 10 of preferred footwear brands.
Piper Jaffray issues Wall Street's most closely watched teen research report, known as the "Taking Stock With Teens Survey," twice a year. Executives often reference its findings on teen spending and brand preferences during conference calls, while investors use them to help make stock picks.
---