The food landscape is evolving, and Chick-fil-A is quickly moving ahead of its competitors.
McDonald's and its more than 14,000 U.S. restaurants still bring in more revenue than any other fast-food chain. But Chick-fil-A is pulling in more cash the Golden Arches — and every other big fast-food chain — on a store-by-store basis.
In a new ranking of the country's 50 largest fast-food restaurants released by QSR magazine on Monday, the average Chick-fil-A restaurant is listed as doing $3 million in sales in 2014, higher than every other restaurant on the list. The average McDonald's made $2.5 million.
In terms of overall revenue, Atlanta-based Chick-fil-A climbed to eighth place, and is now larger than every pizza brand in America, despite having a minimal presence in the Northeast and closing all its stores on Sundays.
Despite expanding to more than 1,900 locations, the chicken chain "has a lot of white space ahead of it — there are still plenty of U.S. markets where Chick-fil-A has yet to open," QSR magazine editor Sam Oches told BuzzFeed News. "As it continues to expand across the country, I suspect it will continue to grow in leaps and bounds."
Chick-fil-A recently ranked as the most popular fast-food chain in the American Customer Satisfaction Index's Annual Restaurant Survey, followed by Chipotle and Panera.
The fast-food landscape is slowly evolving. Here are some of the other changes in the top 10 list of largest restaurants, based on sales volume.
These were the 10 largest fast-food chains in 2014.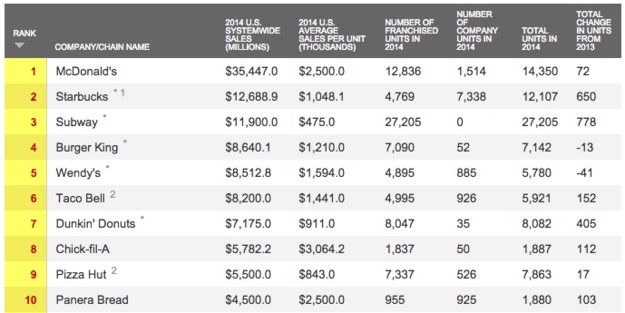 QSR magazine / Via qsrmagazine.com
These were the 10 largest in 2013.
QSR magazine / Via qsrmagazine.com
---