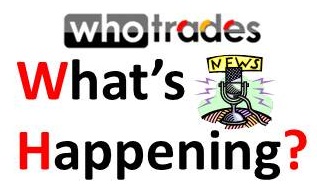 Upcoming S&P 500 Earnings Releases:
Before The Bell:
Dollar General Corp. 
The Kroger Co.
---
Important Data Releases:
UK:
6:15AM EST HM Treasury will annually release Autumn Forecast Statement, which provides an updated economic outlook and previews the government's budget for the coming year, including expected spending and income levels, borrowing levels, and financial objectives.
7:00AM EST Bank of England will release Asset Purchase Facility, which measures the total value of money the BOE will create and use to purchase assets in the open market, and will also release Official Bank Rate, which measuresthe interest rate at which banks lend balances held at the BOE to other banks. If the Official Bank Rate or Asset Purchase Facility changes, Bank of England will release MPC Rate Statement (Tentative time),which is among the primary tools the MPC uses to communicate with investors about monetary policy.
Europe:
European Central Bank will release:
7:45AM EST Minimum Bid Rate, which measures the interest rate on the main refinancing operations that provide the bulk of liquidity to the banking system.
8:30AM EST ECB Press Conference, which is the primary method the ECB uses to communicate with investors regarding monetary policy.
Canada:
8:30AM EST Statistics Canada will release Building Permits m/m, which measures change in the total value of new building permits issued.
10:00AM EST Richard Ivey School of Businesswill release Ivey PMI, which measures the level of a diffusion index based on surveyed purchasing managers.
US:
8:30AM EST Bureau of Economic Analysis will release Prelim GDP q/q, which annualized change in the value of all goods and services produced by the economy. Please note that the release date has been delayed by 9 days due to the US government shutdown.
Also at 8:30AM EST Department of Labor will release Unemployment Claims, which measures the number of individuals who filed for unemployment insurance for the first time during the past week.