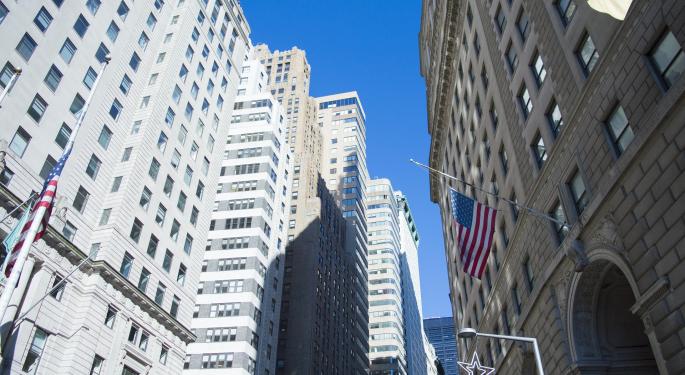 Below is a tool used by the Benzinga News Desk each trading day -- it's a look at everything happening in the market, in five minutes. Apply for daily AM access by clicking here or email minutes@benzinga.com.
Macro Focus
Asian stocks were mostly higher as the price of oil continued to tick higher and the yen slightly dipped lower as a weaker yen is considered a positive for the country's exporters. The International Monetary Fund suggested that Eurozone countries allow Greece to skip paying interest on its bailout loans until 2040.
Oil prices reversed early morning gains and was trading mixed ahead of the U.S. market session. The price of Brent crude was lower by 0.1 percent at $48.88 a barrel, while WTI crude was higher by 0.1 percent at $47.83 a barrel.
"America has built up a glut of cheese so big that every person in the country would need to eat an extra 3 pounds this year to work it off," a Wall Street Journal report says. "And it isn't just cheese. The growing stacks of cheddar, which can be kept frozen for years, and other cheeses such as feta, which can be stored for only a couple of months, are just the tip of a surplus of U.S. agricultural products that is swamping markets for grains, meat and milk."
BZ News Desk Focus
Some of this morning's and last night's notable earnings:
Home Depot HD 1.09% Q1 EPS $1.44 vs $1.36 est, Revenue $22.76B vs $22.39B est
TJX TJX 1.12% Reports Q1 EPS $0.76 vs $0.71 Est., Sales $7.54B vs $7.29B Est.
The Children's Place PLCE 5.63% Reports Q1 EPS $1.32 vs. Est. $1.04, Rev. $419.4M vs. Est. $417.5M
Red Robin Gourmet Burgers RRGB 10.69% Reports Q1 EPS $1.27 vs. Est. $1.11, Rev. $402.1M vs. Est. $415.1M
USA Building Permits (MoM) for Apr 3.60% vs 4.30% consensus estimate. USA Housing Starts (MoM) for Apr 6.60% vs 2.90% consensus estimate.
USA CPI (MoM) for Apr 0.40% vs 0.30% consensus estimate. USA CPI (YoY) for Apr 1.10% vs 1.00% consensus estimate.
Sell-Side Themes
The Street was all over Relypsa's RLYP 4.12% latest Veltassa sales numbers. 1,216 new patients started taking Veltassa with a free starter supply.
The quiet period for Secureworks SCWX 0.29% was lifted, leading to a mix of Buy and Neutral ratings from the Street.
Sell-Side's Most Noteworthy Calls
Deal Talk
The U.S. Department of Agriculture has agreed to join the U.S. government panel that is reviewing state-owned ChemChina's planned $43 billion acquisition of Swiss seeds and pesticide maker Syngenta SYT 0.77%, people familiar with the matter told Reuters.
In The News
Billionaire entrepreneur Marc Cuban was once a strong supporter of of Donald Trump... but now he isn't. "I can say with 100 percent certainty that there is a really good chance we could see a huge, huge correction," Cuban said when asked how the stock market could react to a Trump victory. Cuban blamed Trump's "flip-flopping" on major issues and "uncertainty" in his policies.
Amazon AMZN 1.13% announced that it's partnering with more than 350 New York City eateries on meal delivery, in a move that will pit it against a host of incumbents and delivery startups, as well.
Blogosphere
"Is Corporate America converting to Catholicism? Pfizer recently restricted the use of its drugs in executions," Rob Cox writes. "And Alphabet, one of the most valuable companies on earth, banished payday lenders from the temple of search. In reality, it's not a Damascene shift so much as a series of easy moral stances that have the added benefit of reducing risk for shareholders."
How can you make over $10,000 monthly selling on Amazon and drop shipping? Check out some of the ways.
Trending
HD RLYP TJX PLCE EPE A FRAN DANG VOD HTZ DIA FCX TLT ABC WWE CSCO [StockTwits]
The Golden State Warriors, who won a record 73 wins in the NBA regular season, dropped Game 1 of the Western Conference Finals to the Oklahoma City Thunder, falling 108-102.
© 2016 Benzinga.com. Benzinga does not provide investment advice. All rights reserved.