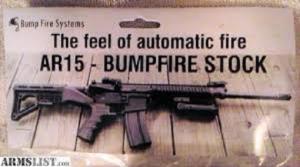 Introduction
Remember the outrage a few weeks back about the Las Vegas shootings? Again, calls for stricter gun controls were heard. And once again, just as what happened after other tragic US shootings, people lost interest. And quite amazingly, bump stocks — the devices that make a rifle fire like a machine gun — are back on sale. And now the Texas massacre. There will probably be another call for more gun restrictions. And that too will. But there is one activity that continues to gain traction: an increasing number of Americans believe they should own guns for protection. Below, this question is explored with relevant data.
Guns in the US
There is no country in the world where guns are easier to obtain and cheaper than the US. Consequently, there are more guns per capita by far in the US than in any other country.
Table 1. – 20 Countries with Most Guns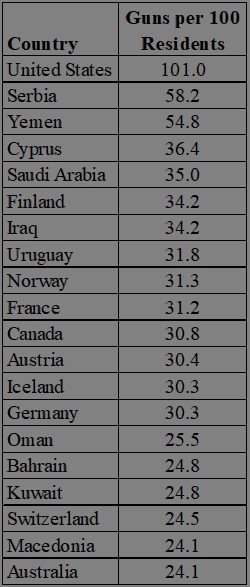 Source: GunPolicy.org
Background checks are a reasonably good proxy for gun sales. And at the following figure indicates, background checks are growing rapidly. Gun sellers credit the rise to requests for concealed carry permits and concerns about terrorism.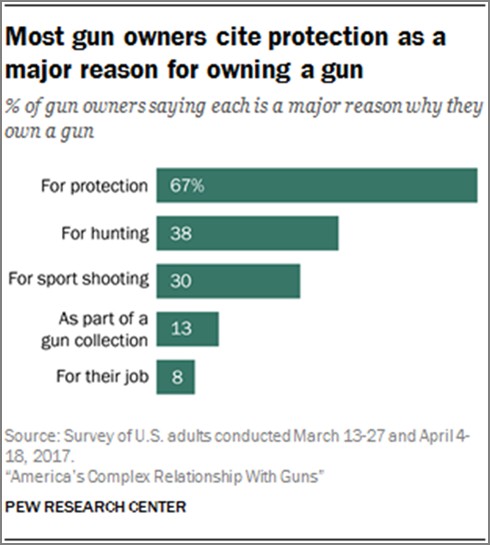 Source: FBI
Table 2 provides data on both background checks (as a proxy for gun sales in 2016) and a survey of gun ownership by state. Overall, an estimated 29% of Americans own guns and 8% purchased guns in 2016. Not surprisingly, most of the states at the top of the list have relatively weak gun laws – see the State Firearm Law database.
Of course, many hunters have more than one gun. However, it is notable that if one accepts hunting licenses as a proxy for the number of hunters, only 16.5% of gun owners are hunters. Does this mean that already, the vast majority of US gun owners have them for protection?
Table 2. – Guns and Hunters by State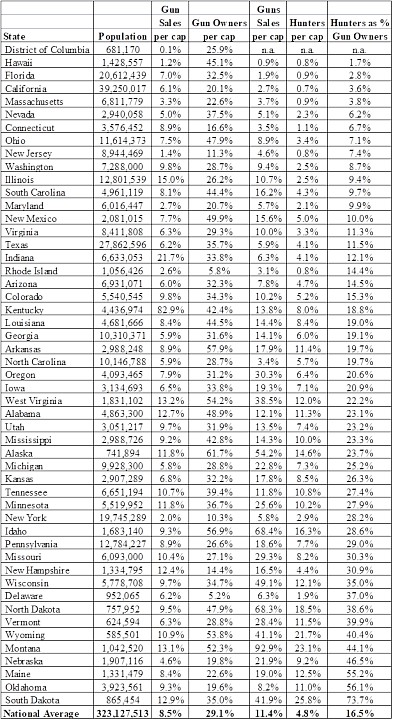 Further evidence for Americans arming themselves for protection comes from the Pew Research Center:
Disclosure: I wrote this piece on my own. I have no holdings in the companies mentioned.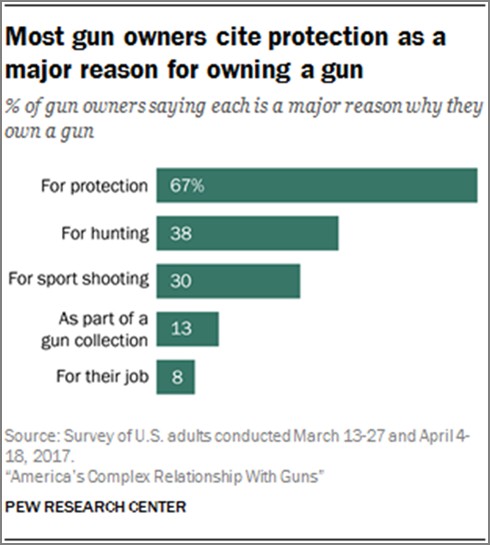 Consider first some data on come deaths by cause (Table 3). Several things are worth noting:
Table 3. Gun Deaths/Injuries by Cause, 2016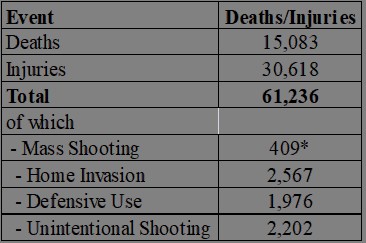 Source: Gun Violence Archive
*Includes 26 deaths at recent Texas shooting
We hear a lot about mass shootings. But they constituted only 0.7% of gun deaths and injuries in 2016.
It is not clear what the outcomes of "Defensive Uses" were.
The 2,202 unintentional shootings were greater than the defensive uses.
Accidents do happen – some recent examples:
Monalisa Perez, was booked into county jail after fatally shooting Pedro Ruiz as he held a book to his chest, believing it would stop the bullet.
A 4-year-old girl in Florida died after she accidentally shot herself in the chest while reaching into her grandmother's purse searching for candy.
A 3-year-old boy shot his father and pregnant mother inside a hotel room in Albuquerque, New Mexico.
A 29-year-old mother was fatally shot in an Idaho Wal-Mart when her 2-year-old son in the shopping cart grabbed a gun that was in her purse and shot her in an apparent accident.
A security officer was cleaning his gun when it discharged and shot his one-year old daughter.
A gun instructor was accidentally shot to death as he instructed a 9-year-old girl on how to fire a 9mm submachine gun.
Regarding the last death, I guess the parents, who taped the incident, felt it was important for their daughter to learn how to shoot an automatic weapon before the age of 10.
The above are nothing more than anecdotes and they beg the question of whether Americans would be better or worse off if they armed. Unfortunately, NRA has blocked almost all serious government research on this question. Most of the little research that has been done came out of the Harvard's Injury Control Research Center headed by David Hemenway. Some of their findings follow:
Disclosure: I wrote this piece on my own. I have no holdings in the companies mentioned.
Policy Implications
On the question of what should be done, perhaps this research finding is most important:
"By a margin of more than 3 to 1, Americans would feel less safe, not safer, as others in their community acquire guns."
I take this to mean that most Americans feel guns are too dangerous for citizens to own without safeguards. Autos are also dangerous. So before you can legally drive, you must pass a driving test and get a license. And before the license is issued, a state can check a complete Federal Registry on your driving history. In addition, you must get your car registered and inspected every year. And finally, you are required by law to carry liability insurance.
Compare this with gun regulations: No license or training is required, there is an incomplete Federal registry, there no need for yearly inspections and no insurance is needed.
Certainly some of the angst over Americans arming themselves would be reduced if guns were regulated like autos.
The Investment Implications of Americans Arming Themselves
Times are good for most gun producers and the Texas tragedy should make them even better. Some of the largest armament companies are listed in Table 4.
Table 4. – Publicly Traded Armament Companies

Disclosure: I wrote this piece on my own. I have no holdings in the companies mentioned.
More