Sprint Corp. S is an U.S. national wireless carrier. Headquartered in Kansas, Sprint is a telecommunication company that provides wireless services and is also an internet service provider. The company operates in two segments: Wireless and Wireline.
Sprint is on track with its network modernization and integration efforts, which has fortified its position in the wireless industry. We believe these efforts have helped the company witness substantial wireless customer addition in the last reported first quarter of fiscal 2017, in which the company had 53.698 million (up 0.63% year over year) wireless connections. We also believe that efficient usage of capital, reduction of cell sites, elimination of dual networks, backhaul efficiencies, reduced churn, lower roaming charges and energy cost savings will act as major positives to fourth-quarter results.
We are also impressed with Sprint's efforts to lure customers from rival carriers such as AT&T and Verizon Communications by offering attractive promotional plans and lucrative discounts. However, this has led to high cash burn and heavy losses for the company. Additionally, the company has a debt-laden balance sheet and negative operating cash flow. Moreover, it has been witnessing losses since 2007. Notably, such high debt levels, decreasing cash flows and liquidity pressure may adversely affect the company's cost of capital while trying to raise new funds for network expansion.
Zacks Rank: Sprint currently carries a Zacks Rank #3 (Hold). You can see the complete list of today's Zacks #1 Rank (Strong Buy) stocks here.
We have highlighted some of the key stats from this just-revealed announcement below:
Earnings: Our Zacks consensus estimate called for a net loss of 2 cents per share while Sprint reported net loss of 1 cent per share. Investors should note that these figures take out stock option expenses.
Revenue: Sprint reported total revenue of $7,927 million, down 3.9% year over year and was below the Zacks Consensus Estimate of $8,071 million
Key States to Note: In the reported quarter, Sprint witnessed net additions of 3,78,000 wireless customers, including postpaid net gain of 1,68,000, prepaid net additions of 95,000, and wholesale and affiliate net additions of 1,15,000. Sprint's focus on delivering the most attractive value proposition in wireless resulted in 2,79,000 postpaid phone net additions in the quarter, marking the ninth consecutive quarter of net additions. Quarterly total retail postpaid churn rate was 1.72% compared with 1.52% in the year-ago quarter. Total retail prepaid churn rate was 4.83% versus 5.59% in the year-ago quarter. Postpaid phone churn was 1.59% as against 1.37% in the prior-year quarter.
Sprint Corporation Price and EPS Surprise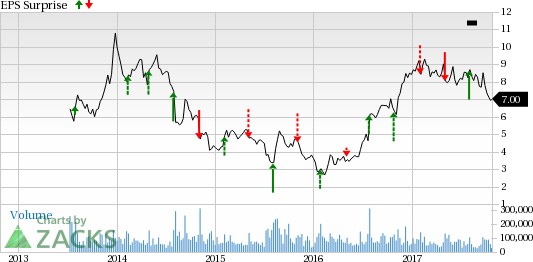 Sprint Corporation Price and EPS Surprise | Sprint Corporation Quote
Check back later for our full write up on this Sprint earnings report later!
Zacks' Hidden Trades
While we share many recommendations and ideas with the public, certain moves are hidden from everyone but selected members of our portfolio services. Would you like to peek behind the curtain today and view them?
Starting now, for the next month, I invite you to follow all Zacks' private buys and sells in real time from value to momentum...from stocks under $10 to ETF to option movers...from insider trades to companies that are about to report positive earnings surprises (we've called them with 80%+ accuracy). You can even look inside portfolios so exclusive that they are normally closed to new investors.
Click here for Zacks' secret trade>>
Want the latest recommendations from Zacks Investment Research? Today, you can download 7 Best Stocks for the Next 30 Days.
Click to get this free report
Sprint Corporation (S): Free Stock Analysis Report
To read this article on Zacks.com click here.
Zacks Investment Research