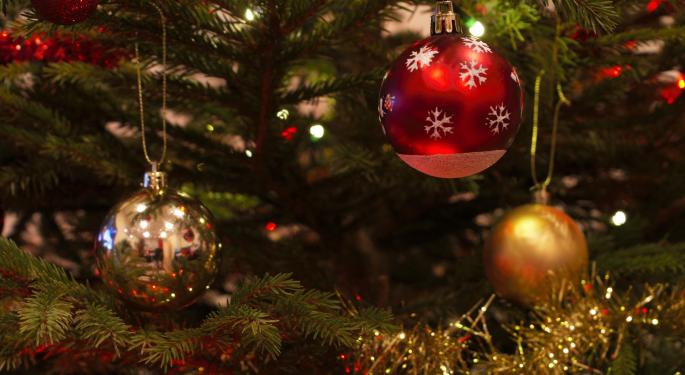 The holiday shopping season is hardly upon us, but expectations are already building up against the positive macroeconomic backdrop. The consumer spending environment is vibrant amid rising employment and income levels. Consumer sentiment is also elevated.
Releasing its 2016 Digital Insights Shopping Predictions, Adobe Systems Incorporated ADBE 0.54% said online sales could swell to $91.6 billion this holiday selling season.
Extended Holiday Season On Cards
The strong expectations are predicated on an extended holiday selling season, which Adobe predicts to begin much earlier and last past the "typical" season. The company sees 53 consecutive days (or 57 calendar days) notching up online sales in excess of $1 billion compared to 31 consecutive days in 2015.
Cyber Monday To Stand Tall
Specifically, Adobe estimates $3.36 billion in sales for Cyber Monday, which would make it the largest online shopping day of all time, by virtue of a 9.4 percent increase. Thanksgiving Day and Black Friday sales are expected to be $2 billion and $3.05 billion, respectively, representing 9.4 percent and 11.3 percent growth. This, however, is a slowdown from the 25 percent and 14.3 percent increase for Black Friday and Thanksgiving Day, respectively, in 2015.
Consequently, holiday online sales could reach $91.6 billion, up 11 percent, thanks in part to the extended holiday selling season. The sales statistics will be tilted toward large retailers relative to their smaller brethren.
Mobile To Pip Desktop
Adobe's analysis also revealed that for the first time mobile devices will exceed desktop in shopping visits, although poor mobile shopping experience may thwart their conversion into sales.
Top Gifts
Listing the top gifts, Adobe said to look at the following as among the most sought after gifts:
Best Deal Dates: Out-Of-Stock Days
Apparel: Highest discounts on Tuesday before the Thanksgiving Day.
Game Consoles: Highest-out-of-stock notification on Thanksgiving Day and Black Friday.
"We expect to see a five percent spike in online shopping in early November and a record 24 percent increase in the last two weeks of December," said Mickey Mericle, vice president, Marketing and Customer Insights at Adobe. "'Click and collect,' faster shipping and retail promotions starting earlier than ever are all contributing to the extended shopping season. Despite the uptick in sales we expect to see slower growth in total online sales this year."
Adobe credits itself as having been near accurate in predicting the trend in the previous years, with only a 2 percent divergence.
Date
Firm
Action
From
To
Sep 2016
Argus Research
Maintains
Buy
Sep 2016
Pacific Crest
Maintains
Overweight
Sep 2016
UBS
Maintains
Buy
© 2016 Benzinga.com. Benzinga does not provide investment advice. All rights reserved.