Terraform Power Inc. (TERP) has been bullish after what appears to be a 6-month long consolidation. 

TERP Daily Chart 7/15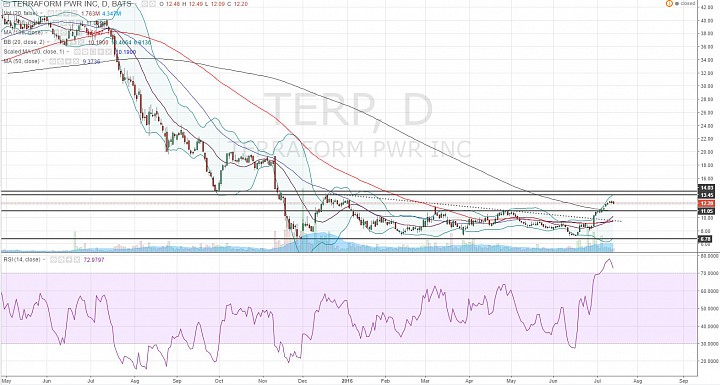 (click to enlarge)

Trend is shifting: 
I am convinced that TERP has turned from its bearish 2015 into a sideways 2016 with potential of becoming bullish. 
The ability to hold above 6.78 throughout 2016 showed that bulls were strong at this price level. 
Price action in the second half of June into July broke above a falling consolidation resistance and pushed price above the 200-, 100-, and 50-day simple moving average (SMAs).
Furthermore, the RSI pushed above 70 for the first time April 2015, which indicates initiation of bullish momentum. 

Buy on a dip:
I am convinced that TERP is turning bullish, but i still within the 2016 consolidation. 
I think it would be prudent to wait for a pullback to buy on a dip around 10, or even 11. 
10-11 is the area that involves the cluster of SMAs. 10 is also the central pivot of the entire consolidation zone since December 2015. 
Also look for the RSI to hold above 40. If it comes near 40 and stalls while price also approaches 10 and stalls, it is probably a good time to buy. 

Reward to Risk: 
Let's say a buy is entered at 11 with a stop at 9.50. That's a risk of 13.63%. A push to the key resistance at 13.50-14 (let's say 13.75), offers potential of 25% gain. Note that the reward to risk is decent even within consolidation scenario. That is why I think waiting to buy around 11 is prudent. 
Now, a break above 14 can open up the 20.00 handle, but let's not get ahead of ourselves for now. 

Failure: 
A break below 10 however should expose the 6.75-7.00 area again.