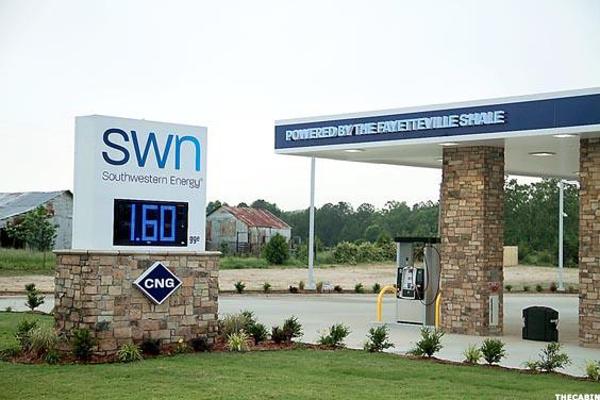 Southwestern Energy ( SWN) had the unpleasant duty of being among the first oil and gas exploration and production companies to report second-quarter earnings in a period of continued sector distress fueled by commodity uncertainty.
But that didn't stop the Spring, Texas-based company, which focuses on natural gas production and has a $6.8 billion market capitalization, from coming out with a roar Friday.
Southwestern slightly beat analysts expectations for earnings for the sector and boldly announced plans to resume development activity with rising gas prices.
Natural gas prices have climbed well since May, and although the commodity has suffered a bit of a slump in July, contracts for August delivery were trading up more than 3% Friday afternoon to $2.78 per 1 million British Thermal Units, somewhat supporting the company's optimism.
Still, the brass shown by Southwestern impressed analysts and the market Friday, and may very well set the tone for energy companies soon to follow with earnings reports, especially those similarly focused on gas, such as Chesapeake Energy ( CHK) .
Southwestern saw its stock climb by as much as 12% Friday afternoon and close by more than 9.5% above the previous day's mark at $14.17 per share. Chesapeake also...
More