Mobileye had a good day on Friday, rallying 4% after a Goldman upgrade to Buy from Neutral with a $50 target, suggesting shares could rally some 25%. Here's the rationale: 
We upgrade Mobileye to Buy from Neutral following a significant PEG de-rating from its post-IPO peak, which in our view primarily reflects technical factors (expiry of the IPO lock-up in January and news that Mobileye was considering a secondary offering). We continue to believe Mobileye offers exposure to a highly attractive and rapidly expanding market (Advanced Driver Assistance Systems – ADAS), with compelling drivers (automotive star ratings regimes, consumer pull), and a strong ability to capitalise as a low-cost disruptor based on a robust technological edge (see "Disruptive tech, strong positioning, autonomous roadmap; Neutral", August 26, 2014). As such, we think the current share price provides an attractive entry point given 25% upside to our unchanged 12-month price target of US$50. 
Yes, "technical factors," like the fact that in January, the company filed to sell up to $500 million worth of shares on behalf of existing holders with Goldman as the lead bookrunner. Of course whether or not Mobileye was "considering" a secondary had nothing to do with Goldman's decision to upgrade the shares on Thursday, which is why we're completely confident that today's secondary announcement with Goldman listed as the lead is just a coincidence, although it is worth noting that Goldman owned nearly 8% of the float going into the offering and will sell 4.63 million shares: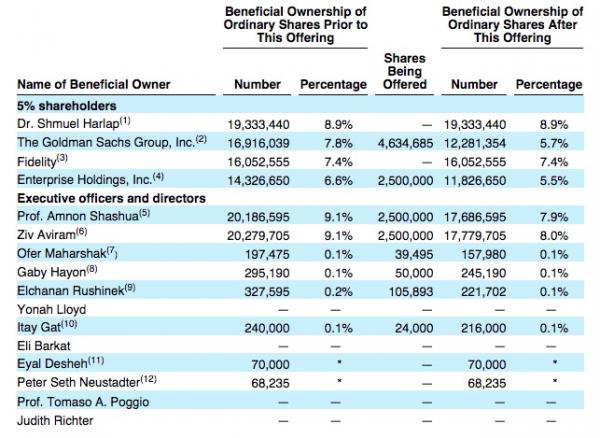 This is reminiscent of Morgan Stanley's epic Tesla upgrade 24 hours before taking the lead on a convertible note issue back in February of last year and serves as a rather hilarious reminder that the idea of a Chinese wall between investment banking and research is an absolute joke. The bottom line: If you bought MBLY on Friday you have officially been muppetized.