Intercept Pharmaceuticals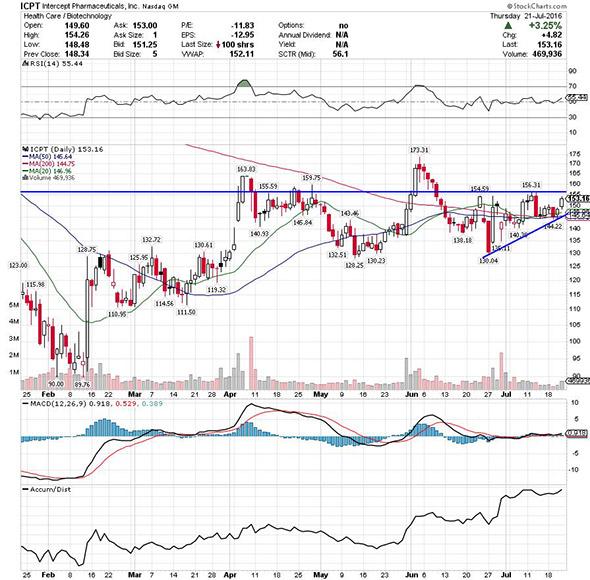 Another biopharmaceutical player that's starting to trend within range of triggering a big breakout trade is Intercept Pharmaceuticals (ICPT) , which focuses on the development and commercialization of therapeutics to treat non-viral, progressive liver diseases. This stock has been in play with the bulls over the last six months, with shares soaring higher by 36.4%.
If you take a glance at the chart of Intercept Pharmaceuticals, you'll notice that this stock has been uptrending over the last month and change, with shares moving higher off its low of $130.04 a share to its recent high of $156.31 a share. During that uptrend, this stock has been making mostly higher lows and higher highs, which is bullish technical price action. That move has now pushed shares of Intercept Pharmaceuticals within range of triggering a big breakout trade above some key overhead resistance levels.
JUST UPDATED – TheStreet's Biotech Bible! Before you invest one single dime in any biotech stock you have got to KNOW WHAT YOU ARE BUYING! Get THE most comprehensive text covering the 186 biotech companies that have gone public since 2013! There's nothing else like it for digging into this highly speculative group of stocks. Grab a FREE copy today!
Traders should now look for long-biased trades in Intercept Pharmaceuticals if it manages to break out above Thursday's intraday high of $154.26 a share and then above more near-term overhead resistance at $156.31 a share with high volume. Look for a sustained move or close above those levels with volume that registers near or above its three-month average action of 519,945 shares. If that breakout materializes soon, then this stock will set up to re-test or possibly take out its next major overhead resistance levels at $165 to $170, or even $173.50 to $175 a share.
Traders can look to buy Intercept Pharmaceuticals off weakness to anticipate that breakout and simply use a stop that...
More