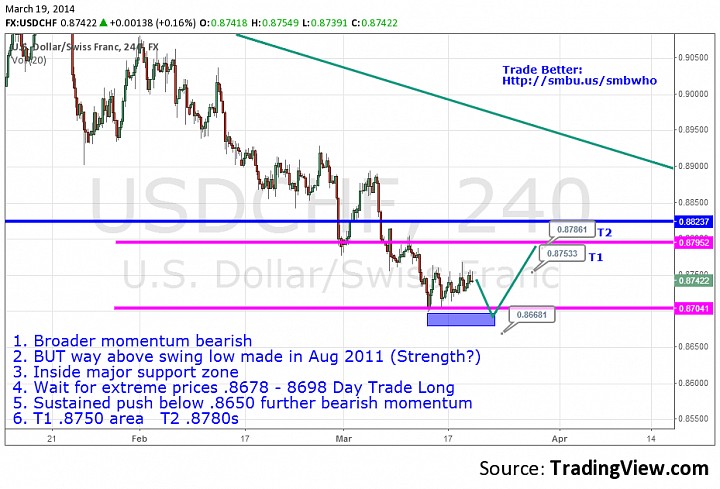 ---
Trade Better: Equities FX Futures
---
USDCHF: Broader trend is currently bearish demonstrated by the lower highs and lower lows. Current price action is within a significant support zone which may offer bullish day trade opportunities.
---
This analysis was conducted before the FOMC announcement. This analysis still stands upon an extreme price retest of the .8678 - .8698 area.  
---
Otherwise I would wait for a price retest of the .8740 area and bullish validation before taking a long position.
---
If the market offers this extreme buying opportunity, and since the broader trend is bearish, I would not expect a lot from longs, and would be more inclined to exit at conservative prices.  .8750 - .8790 up to the .8830 area would be good ranges to either place limit orders to exit or look for selling activity to validate your exit. 
---
Either way this pair is not as weak as it appears initially.  The argument is made when you compare the current support zone (red lines) to the most significant swing low .7063 established on August of 2011.  The current area is forming a higher low which can be interpreted as the beginning of broader strength. 
---
If USDCHF sustains a break below .8650 support, this would signal further bearish momentum and would cancel out this long idea.
---
At this point, I would be cautious on both sides of the market and keep long and short trade expectations conservative. 
---
Learn how I conduct this analysis here.