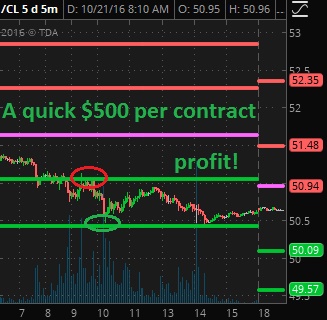 Don't you just love oil trading? 
After making $4,000 in less than a day on our Live Trading Webinar Idea on Wednesday (replay available here) we took advantage of the last day's trading the November contracts over at the NYMEX to short Oil Futures (/CL) one final time.  As I said to our readers in yesterday's morning post:
Today is rollover day to the December contracts so anything can happen though, of course, we'll short below $51 or $51.50 if we get there on a bounce, using those lines as stops and, of course, we still have our longer-term Oil ETF (USO) puts.  We can only hope that, by making contract spoofing more expensive for the pumpers, we can do just a little to curb the practice at the NYMEX – God only knows the GOP Congress has done nothing to stop this madness, which robs Americans of Billions of Dollars at the pumps each year. 

Remember, I can only tell you what is going to happen in the markets and how to make money by trading it – the rest is up to you!  
Another trade we left up to you was our call to short the S&P (also from our Webinar) Futures (/ES) at 2,140 and those gives us a nice ride down to 2,130, which was also good for $500 per contract and that's nice money to take home into the weekend so we're not being greedy if it stops us out (over our weak bounce line at 2,134 – also see yesterday's post), though we will short oil again as it struggles to take back $51 this morning though, now we're early in the December contract cycle, so there's less downward pressure, so it's a much riskier bet (so very tight stops above).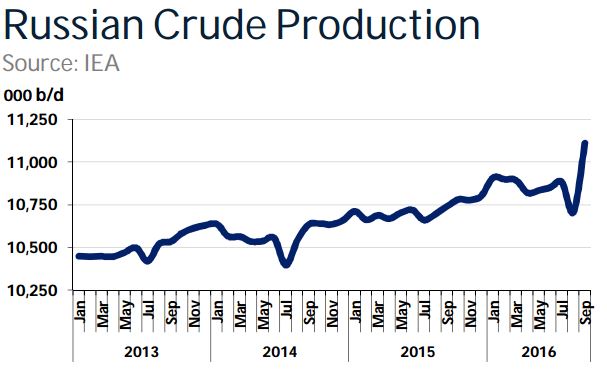 Also, in favor of the oil bull, OPEC is having another meeting this weekend (as noted in our Webinar, they are now having streams of meetings to talk up the price of oil) and Now Russia's Oil Minister is saying that, with Russian output now over 11Mb/d (a post-Soviet record), they are still willing to discuss production cutbacks.  As…
Provided courtesy of Phil's Stock World.