The CAD/JPY has been bullish since the end of September, rallying from a consolidation range support just under 89. Now, price is pushing near the 92.40 consolidation resistance. Let's take a look at the anatomy of the consolidation range.

CAD/JPY 4H Chart 10/6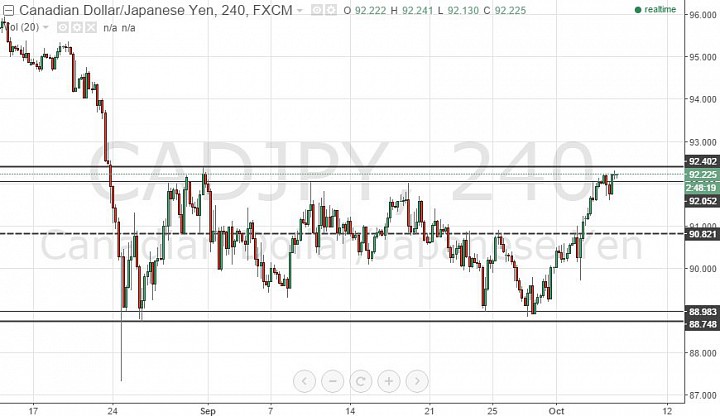 (click to enlarge)

The 4H chart shows that 92.20-92.40 might provide resistance. So far, that has been the case, but bulls are still at it, so it is too early to tell whether the resistance will hold. At this point, if price falls below today's support pivot at 91.60, we can say that bears won the fight. A break above 92.40 opens up the 95.30-95.40 area.

Another key level within this consolidation is the 90.80 area, which represents the central pivot of the range. It also can be seen as an actual support/resistance pivot. If price stays above the 90.80 area, there is a bullish bias and we can say that bulls are eyeing the range resistance. If price is below 90.80, then we would say the market has bearish bias and has the 88.75-89.00 area in play. 

A break below 88.75 would first open up the 87.35 low. Below the 87 handle, the next key level to monitor will be the 85-85.10 area, which was a key resistance pivot in March 2012.