Activision Blizzard is famous for Call of Duty, Skylanders and Guitar Hero and other popular games for Xbox and PlayStation. The company's stock, as well as the EA's stock, increased significantly this year - +80% over the last year, +236% over the last three years. 
<!== INSTRUMENT %% %1440% ==!>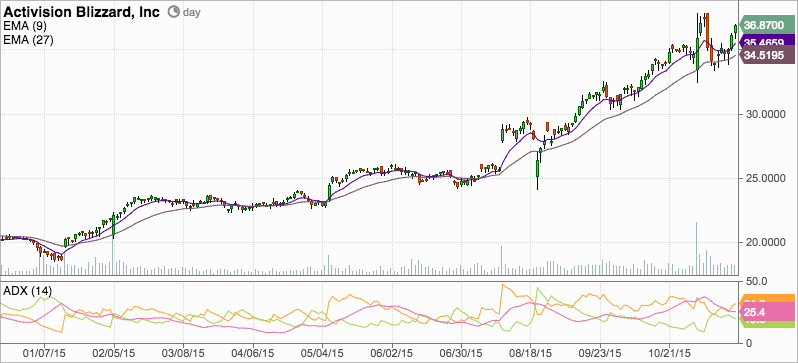 Activision Blizzard gets its revenue from the game downloads. The main platforms as I have already mentioned are Xbox and PlayStation. So I assumed that the revenue has a dependance from the number of downloads and therefore we need to understand how much money the company earns per each download. Activision Blizzard has the similar scheme of monetization as EA: they get revenue from actual game purchase and extra content for these games. Analyzing the Q3 results, I got the following results concerning the company's operations:
Company's revenue per download was around $20.83 for nine months ended Sep 2014, and it grew up to $21.37 (+2.5%) for nine months ended Sep 2015;
Cost of sales per download increased as well, from $6.57 to $6.75, growth rate is more or less the same (+2.8%);
If we check the number of downloads, we can see the following dynamic:

the number of downloads dropped down significantly in 2014. As of December 2013 the number of downloads was around 195M, however as of September 2014 the same number was around 136M. Most likely it could be explained by the start of sales of Xbox one and PS4; 
the number of downloads in 2015 is growing, however, I assume that this is the fact of low base - the company had just 136M downloads as of September 2014, and has around 155M downloads as of September 2015;
download acquisition cost (the same as customer acquisition cost for software companies) is around $50 per download, which is not so high, but still more than twice bigger than the average revenue per download for nine months of 2015. 
Basically, I didn't see that the stock price dropped down because of the number of downloads decrease in 2014. I think that the company will continue increasing its operating metrics over the next several years and it can be a good investment opportunity. Moreover, the company paid 0.6% dividends last year. In this competition with EA, I think that ATVI is looking more attractive in terms of upside potential. 
What do you think about this $26B company from the gaming industry? Do we need to buy it or just wait for the better moment?