What happened
Computer-aided design software specialist Autodesk (NASDAQ: ADSK) soared higher through the first half of 2017, according to data provided by S&P Global Market Intelligence.
The stock had been up by nearly 50% at one point in the year before stepping back to a still market-crushing 32% gain by the end of June.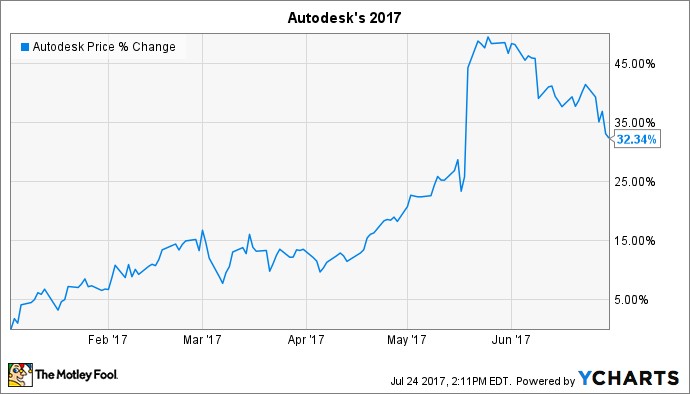 So what
Most of that rally came following fiscal first-quarter results demonstrated that the software company's switch to a subscription-based business model is starting to pay off. Autodesk added 233,000 subscribers in the quarter to reach 1.32 million. And while overall revenue was down as customers embraced term payment plans, the company's subscription plan revenue doubled to $692 million.
"Broad-based strength across all subscription types and geographies led to another record quarter for total subscription additions," CEO Amar Hanspal said in a press release in mid-May. Executives also highlighted tight cost control, which helped net loss narrow to $0.59 per share from $0.75 per share in the year-ago period.
Now what
Hanspal and his team forecast revenue of between $488 million and $500 million for the second quarter, compared to consensus estimates that had been more conservative at $488 million. For the full year, investors are expecting just a minor uptick in annual sales to $2 billion. Yet Autodesk's subscriber gains will be the critical metric to watch, as healthy growth there should push the company toward profitability while making its sales base much more predictable.
10 stocks we like better than Autodesk
When investing geniuses David and Tom Gardner have a stock tip, it can pay to listen. After all, the newsletter they have run for over a decade, Motley Fool Stock Advisor, has tripled the market.*
David and Tom just revealed what they believe are the 10 best stocks for investors to buy right now... and Autodesk wasn't one of them! That's right -- they think these 10 stocks are even better buys.
Click here to learn about these picks!
*Stock Advisor returns as of July 6, 2017

Demitrios Kalogeropoulos has no position in any stocks mentioned. The Motley Fool has no position in any of the stocks mentioned. The Motley Fool has a disclosure policy.