As a reminder, AP reports, Simpson received a 33-year sentence in 2008 for an armed robbery involving two sports memorabilia dealers in a Las Vegas hotel room.
"I've been asked many times to mediate conflict between individuals and groups … to keep guys from throwing punches," Simpson said on Thursday. "My commitment to change is being a better Christian," Simpson said, noting that he co-founded a Baptist group while behind bars.

Simpson denied "ever having" alcohol or substance abuse problems, but noted that he did have drinks on the day of his crime. "We were celebrating a wedding," Simpson said.

Simpson received a 33-year jail sentence with a minimum sentence of nine years for the robbery, but that wasn't his first high-profile court case.
The 70-year-old was asking Nevada parole officials to release him in October, when he will have served the minimum nine years.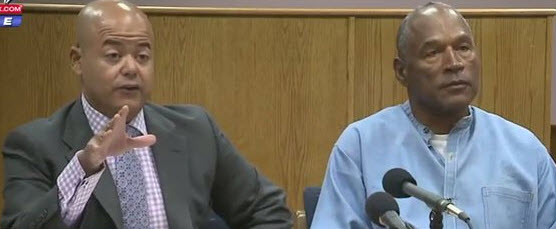 OJ Simpson was granted parole on Thursday following nine years in jail for a crime committed in 2007.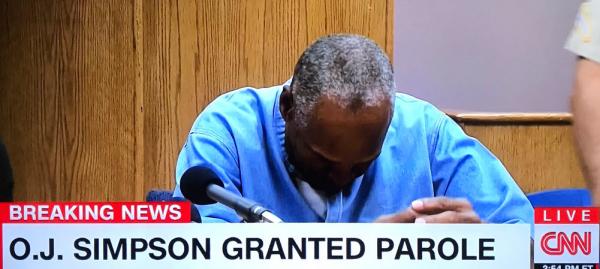 The four parole board members voted unanimously and said the decision was "fair" based on the amount of time that Simpson has already served. He will be released in October.
OJ Simpson will be released from prison in October. Watch the parole board's final vote

https://twitter.com/hashtag/OJSimpsonParole?src=hash

pic.twitter.com/CthlCzuC5Z

— Sky News (@SkyNews)

https://twitter.com/SkyNews/status/888110890318311426
Simpson, now Nevada inmate No. 1027820, was convicted on charges of armed robbery and assault with a deadly weapon in 2007.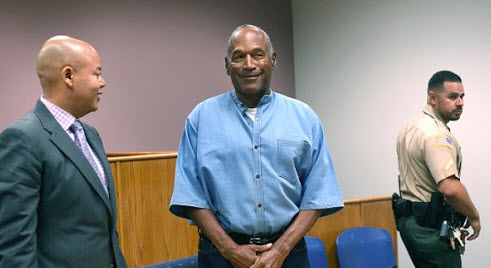 How long before he has a book deal and TV show?
As PageSix reports, O.J. Simpson may find a new home on the small screen.
An insider tells Page Six the former NFL star, 70, who got parole Thursday after serving nine years on an armed robbery conviction, is being hounded with offers to film a reality show.

"Everyone in town is shopping him a reality show," a source said.

"The question will be if that's a provision of parole to not do media," the insider continued. "It would be odd because he hasn't bothered anyone in the media. He would have to get permission from parole to do that. Whatever he does for work, he will have to get it approved."

Dozens of companies across a variety of networks are said to be pitching ideas.