NYMEX Crude Futures edgy at make-or-break levels at 42.22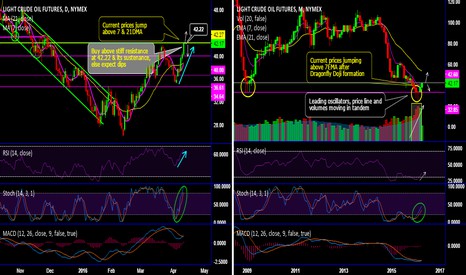 We began stating "Wait and Watch" approach for the breach of a stiff resistance at 42.22 levels as there have been series of significant data events are lined up that could have adverse impact on crude. (OPEC meeting on 17th April, EIA's inventory levels and OPEC's demand forecasts for 2016 are reduced).

Technically, CL1!0.00%% ( crude oil0.00%% futures ) currently showing upside potential as bears push southwards at 41.50 or 41.20, bulls are highly active at these levels but seems to be panicky at 42.22 levels, that is where we see the strong resistance.

This was probably due to the Saudi Arabian oil minister downgrades the freezing  topic of oil production.

Earlier today, the commodity has tested supports at 40 levels to jump upto 42.22 levels (almost 5.55% increase in a day so far).

While, buying momentum has been intensifying as the daily RSI & stochastic indicators are converging to these price spikes and current prices jump above 7 & 21DMA.

Will Dragonfly push even higher for trend reversal?

On monthly plotting, so far it's been luring effect that the bulls may tend to jump into conclusion, however, whether it is a trend reversal, that's million dollar question. This is yet to be confirmed by lagging indicators although strong bounces from last three months after the formation of "Dragongfly Doji".

MACD still remains in the bearish trajectory, while current price on monthly still well below 21EMA despite the attempts of bull swings.

Our earlier medium targets have been very well achieved, refer below link for more readings on our previous post:

http://www.econotimes.com/FxWirePro-WTI-CL1!-buying-set-up-s...

Targets achieved -  T1 at 38.38 levels and T2 at 40.