This company grew its distributions by over 33% in 2015 and has 11 straight hikes.
It yields over 9%, with 1.5x coverage.
Revenue grew 64%, EBITDA grew 76% and distributable cash flow grew over 175% in 2015.
Have you taken any road trips lately? Chances are, you probably try to time your pit stops to coincide with some eats as well. It seems that gas stations have been upping their culinary offerings for some time now due to the fact that more attractive food offerings bring more repeat customers.
We last wrote an article about Sunoco LP (NYSE:SUN) in mid-February, when it was languishing below book value, yielding over 13% and priced at $23.76. It has risen nearly 46% since that article, but we feel that it still offers income investors good value (That earlier article can give you more detail about SUN's corporate structure and many other details).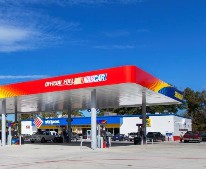 SUN distributes motor fuel to convenience stores, independent dealers, commercial customers and distributors, and also owns C-stores. The company was formerly known as Susser Petroleum Partners LP and changed its name to Sunoco Partners LP in October 2014.
With its major dropdown acquisitions from its parent/partner companies, Energy Transfer Partners (NYSE:ETP) and Energy Transfer Equity (NYSE:ETE), and other acquisitions, SUN has quickly become a major player in the US retail convenience store/gas station industry. SUN operates approximately 850 C-stores and retail fuel sites. It has further upped its game by adding more interesting food outlets, such as its Laredo Taco Company, which has a 45%-plus gross margin. SUN says that taco-hungry customers visit its Stripes retail outlets 40% more often.
SUN is up 23% over the past quarter, but looking back further, it's actually still down -12% year to date, and also down -31% over the past year. This is a familiar scenario for a lot of the energy-related stocks we've covered in our recent articles, many of which finally caught a bid in mid-February but are still down over the past year.
Even with its big recent price rise, SUN is still over 20% below analysts' mean price target of $41.80.
Distributions: SUN has raised its quarterly distribution 11 straight times since February 2013. Since it hasn't...
More