The headline-making celebrations of the mind-blowing numbers associated with China's Singles-Day sales drove investors to buy BABA ahead of the open in excited 'everything is awesome' anticipation. However, between 'sell the news' profit-takers, weak China macro, and a WSJ story confirming our recent fears on counterfeit goods, BABA is now down over 4% on the day, back below the 200-day moving average.
"Sell the news"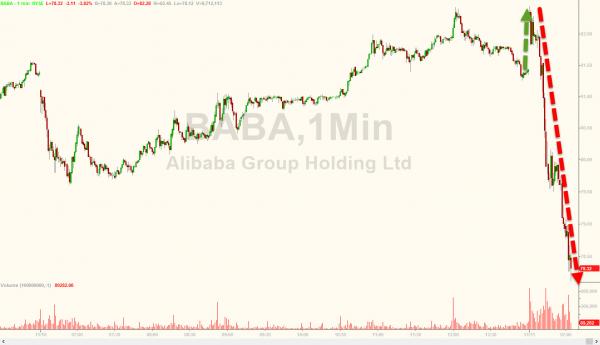 With China admitting that, more than 40% of goods sold online in China last year were either counterfeits or of bad quality, illustrating the extent of a problem that has bogged down the fast-growing online sector, The Wall Street Journal reports, Alibaba's global ambitions face a major challenge...
Alibaba, which dominates e-commerce in China, is going abroad as its home market matures. Alibaba Executive Chairman Jack Ma has said the company plans to serve two billion customers world-wide within a decade. Executives hope to turn China's Nov. 11 online sales festival, Singles' Day, into a global event.

 

But the presence of counterfeit goods presents a problem for these global ambitions. Business groups and brands are increasingly scrutinizing AliExpress, worried it will send counterfeits from Chinese factories straight into consumers' hands on a global scale.

 

"There are substantial concerns among brand owners that expanding Alibaba's AliExpress platform will result in a very significant increase in the sale of counterfeit and otherwise infringing goods" unless more safeguards are imposed, said Paul Kilmer, founder of the Trademark Working Group, a collective of U.S. companies and organizations.

 

Alibaba says counterfeiting is a problem for all e-commerce companies, and that only a minuscule proportion of transactions lead to consumer complaints about fakes. "Like all global companies in our industry, we must continue to do everything we can to stop these activities," a spokesman said. He added Alibaba has made it easier for brands and others with a record of legitimate requests for the removal of infringing listings to use a simplified system to expedite such take-down claims.

 

...

 

In a September filing with the U.S. Trade Representative over China's compliance with World Trade Organization commitments, the U.S. Chamber of Commerce cited AliExpress as a source of concern.

"AliExpress is expanding into the U.S. and offering translation services in multiple languages," the chamber said in its submission, and neither the rights holders nor the government has the resources to stop a flood of counterfeits coming in one small package at a time.
*  *  *
Or perhaps - it's just because - as China's macro data showed last night, all is not well.