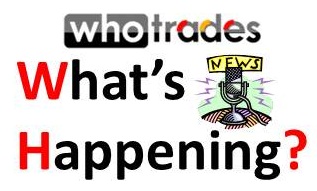 There is no more S&P500 Earnings Release this week. Please stay tuned for the update next week.
Important Data Releases:
UK:
4:30AM EST Office for National Statisticswill release Second Estimate GDP q/q, which measures change in the inflation-adjusted value of all goods and services produced by the economy.
US:
8:30AM EST Census Bureau will release Core Durable Goods Orders m/m, which measures change in the total value of new purchase orders placed with manufacturers for durable goods, excluding transportation items.
Also at 8:30AM EST Department of Labor will release Unemployment Claims, which measures the number of individuals who filed for unemployment insurance for the first time during the past week.
New Zealand:
7:00PM EST ANZ will release ANZ Business Confidence, which measures the level of a diffusion index based on surveyed manufacturers, builders, retailers, agricultural firms, and service providers.
Australia:
7:30PM EST Australian Bureau of Statistics will release Private Capital Expenditure q/q, which measures change in the total inflation-adjusted value of new capital expenditures made by private businesses.