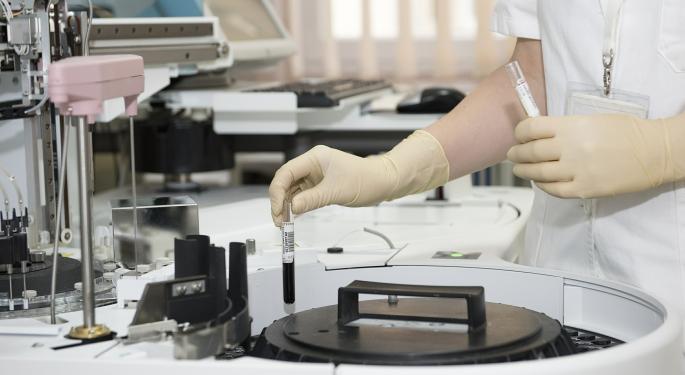 Shkreli, who appeared on Monday's edition of PreMarket Prep, said even though the the biotech's stock has "been pummeled" in recent months, "if you run the numbers, it actually looks like it could be worth double the stock price."
Shkreli likes Jazz in part because of its 2013 acquisition of Gentium, which he said he tried to buy for "something like $150 million." Jazz ended up paying $1 billion. That, along with its Xyrem drug, makes him think Jazz could be worth between $15-20 billion, instead of the $7 billion it's worth now.
"It's extremely well managed," he said. "These are the smartest guys in the business, I think. Just a fantastic company at a good price."
A Worthless Penny?
On the other side, Shkreli said he's looked at shorting Mast Therapeutics Inc MSTX 12.54%. It's a penny stock, which can make it a little tricky to short, but from a valuation standpoint Shkreli thinks it's "worthless."
"This is a company that's probably, I would say, worthless, that's gonna drop 90 percent or more in the next few weeks."
Though Shkreli singled out Mast specifically, he noted there are other companies out there just like it.
"This happens in biotech. There's at least 10-20 of these a year where you just have a drug that never should have been developed, by a management team that doesn't know what they're doing. The company doesn't have any cash, and they're just praying to hit the lotto and unfortunately they wont. That's kind of what I think is going to happen to Mast."
"I love shorting stocks like this," he said.
The following headlines appeared in the Benzinga Pro platform as Shkreli was talking.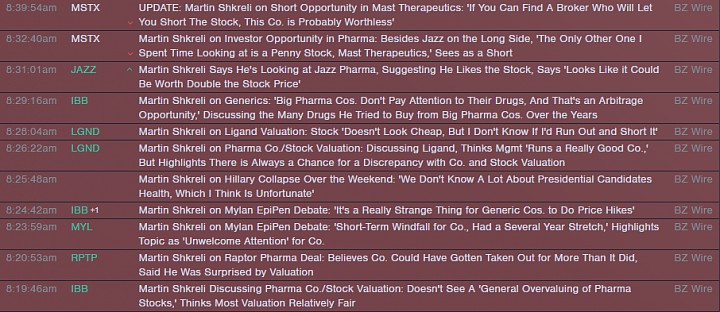 Listen to the full interview with Shkreli below. PreMarket Prep is a daily trading ideas show that focuses on technical analysis and actionable short term trades. You can listen to the show live every morning from 8-9 a.m. ET here, or catch the podcast here.
© 2016 Benzinga.com. Benzinga does not provide investment advice. All rights reserved.