Oil, natural gas, and petroleum products exports made up 68% of Russia's total exports in 2013. This is how Russia was able to build up its foreign currency reserves, providing ample amounts of Euros and US dollars that came especially in handy when its large state-run enterprises had to pay off foreign debts while the ruble was weak. However, low oil prices have reduced Russia's foreign reserves by $140 billion USD since the beginning of 2014 to where it sits today at $360 billion. 
If the Ukraine crisis flares up again, expect Western powers to go after Russia's energy exports in order to put pressure on the embattled country. However, Russia is the source of roughly one-third of Europe's natural gas and crude oil imports, meaning aggressive sanctions would hurt both sides economies. Russia's natural gas market share has been declining as Europe tries to wean itself off Russian gas due to the geopolitical implications, but Russia is fighting back with its Turkish Stream Pipeline, which will route natural gas to Europe markets through Turkey.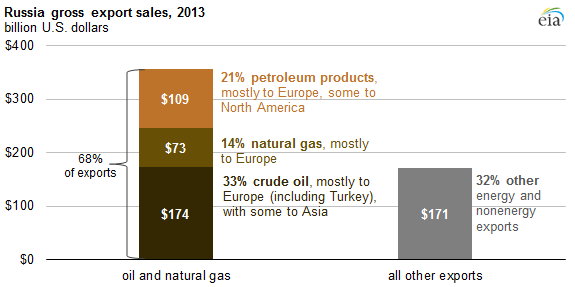 Check out the Oil & Gas page for more info, and don't forget to Like/Comment! Thanks for reading.