"The global markets aren't doing well and China's economic fundamentals aren't picking up," said Wang Zheng, the Shanghai-based chief investment officer at Jingxi Investment Management Co.
For once, the overnight session was not dominated by weak Chinese economic data (which probably explains why the Shanghai Composite dropped for the second day in a row, declining 1.4%, and ending an impressive run since the beginning of November) and instead Europe took the spotlight with its own poor data in the form of Q3 GDP which printed below expectations at 0.3% Q/Q, down also from the 0.4% increase in Q2, with several key economies rolling over including Germany, Italy, and Spain while Europe's poster child of "successful austerity" saw Q3 GDP tumble 0.5%, far worse than consensus expected.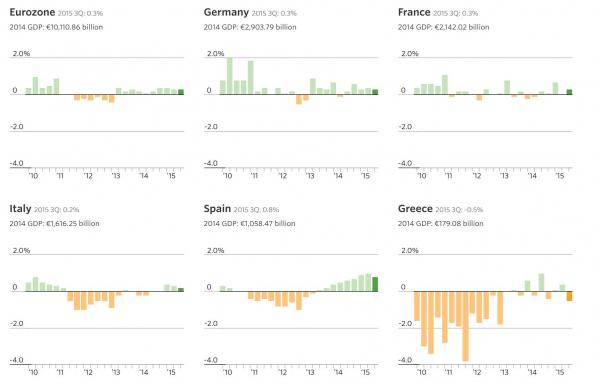 Ironically, the main source of weakness was a deterioration in exports - this in the continent that has engaged in Q€ and has been jawboning for the past several months, all in an attempt to weaken the Euro and boost exports.
According to the WSJ, "the eurozone economy slowed in the three months to September as exports to large developing economies weakened, a development that makes it more likely the European Central Bank will expand its stimulus programs in December. The slowdown was led by Germany, the currency area's exporting powerhouse, while Italian economic growth also eased. There were fresh contractions in Greece, Finland and Estonia, while Portugal's economy stagnated.
Here is a summary of the key European economic datapoints:
Euro-Area Economy Grew 0.3% in 3Q vs 0.4% Estimate
French Economy Grew 0.3% in 3Q, Matching Estimate
German Economy Grew 0.3% in 3Q, Matching Estimate
Italian Economy Grew 0.2% in 3Q vs 0.3% Estimate
Portugal 3Q GDP Unchanged Q/q vs Est. +0.4% Q/q
Spain Oct. Harmonized CPI -0.9% Y/y; Prel. -0.9% Y/y
Italy Oct. Final HICP +0.3% Y/y; Est. +0.3% Y/y
Dutch Economy Grows 0.1% in 3Q; Est. +0.4% Q/q
Another problem: with both a rate cut and more QE from the ECB already largely priced in, the weak European data did not boost risk assets, and so the Stoxx Europe 600 Index is on track for its biggest weekly decline in two months.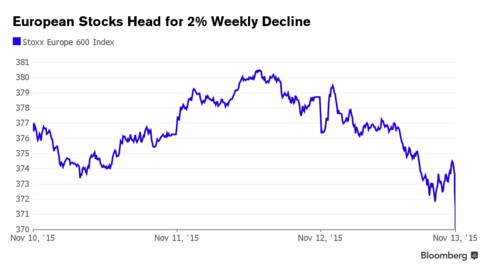 Every major Western European equity index has dropped. Portugal's PSI 20 is the worst performing index, with a decline of 5 percent, its biggest of 2015. Earlier this week the government of Pedro Passos Coelho was ousted by a left-wing alliance. The country's president will decide who to ask to try to form the next administration.
As of this moment both US equity futures and European equities were trading at their lows as follows:
S&P 500 futures down 0.2% to 2037
Stoxx 600 down 0.5% to 371
FTSE 100 down 0.7% to 6137
DAX down 0.2% to 10766
German 10Yr yield down 3bps to 0.58%
Italian 10Yr yield down 3bps to 1.58%
Spanish 10Yr yield down 2bps to 1.82%
MSCI Asia Pacific down 1% to 132
US 10-yr yield down 1bp to 2.3%
Dollar Index up 0.16% to 98.81
WTI Crude futures up 0.4% to $41.91
Brent Futures up 1.6% to $44.75
Gold spot down 0.1% to $1,084
Silver spot up 0.2% to $14.33
Global stocks are heading for the third consecutive weekly drop. The explanation, according to Bloomberg: "weak Chinese data and the prospect of a U.S. interest rate hike in December breeds caution among investors." And yes, this is the same justification given to soaring stocks just a few weeks earlier. 
The losing run for the MSCI All Country World Index is the longest since the end of August. The takeaway from the handful of Fed officials who spoke Thursday is rates are likely to rise this year, but the pace thereafter will be gradual. Chinese stocks on the mainland and in Hong Kong sank after data late Thursday showed the country's broadest measure of new credit tumbled to a 15-month low, demonstrating that rate cuts have yet to ignite borrowing.
A far bigger concern that emerged yesterday, was the renewed rout in the commodity sector: a gauge tracking 22 commodities is on track for a 5th weekly decline. A culmination of the strong dollar and a slowing Chinese economy are battering the Bloomberg Commodities Index, sending it to the lowest in 16 years.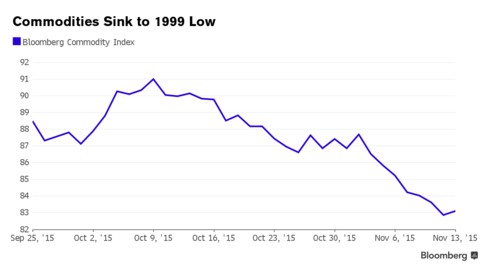 This week alone crude oil has sunk almost 6 percent as U.S. stockpiles expand, while copper has dropped 4 percent on signs of falling demand from China. Gold hasn't been spared either. This week it's fallen to its lowest since 2010 as its appeal diminishes with the likelihood of a U.S. rate increase next month. The Bloomberg Commodities Index is set for a fifth yearly drop, its worst run ever.
Back to Asian equity markets, where stocks fell in tandem with yesterday's global equity rout which saw S&P 500 trade negative YTD, with all three major indices declining by more than 1% amid the sell-off in the commodity complex. Hang Seng (-2.2%) and the Shanghai Comp (-1.4%) traded in the red amid concerns regarding China's ability to kick start growth in the economy, after Aggregate Financing fell to a 15-month low. Subsequently, adding to the evidence that 6 PBoC rate cuts in the past year have yet to spur a sustained pick up in borrowing. ASX 220 (-1.5%) and Nikkei 225 (-0.5%) was weighed by energy names following the declines in oil prices.
European equities (Euro Stoxx: -0.3%) have traded in negative territory throughout the morning in line with their US and Asia-Pacific counterparts as dampened sentiment remains prevalent across asset classes . While sentiment generally is fairly soft, losses in equities have been capped by the energy and material sectors as the commodity complex benefits from the weaker USD, seeing WTI pare back some of the recent losses to reside around the USD 42.00 handle. In terms of stock specific news, Syngenta (+7.5%) is the notable outperformer after reports of a takeover attempt by ChemChina.
Bunds saw a bid in early European trade , with the assent accelerating through the 21 DMA 156.74 amid the aforementioned risk-off sentiment . Of note the PO/GE 10y spread is 6 wider ahead of DBRS rating review update on Portugal. This is of particular relevance as the DBRS are said to discuss the ongoing Portuguese political uncertainty in a crucial review which might result in its bonds being excluded from the ECB's QE program if downgraded.
In FX, EUR has seen broad based weakness, with EUR/USD trending lower throughout the session in the continuing downbeat trend after yesterday's host of hawkish Fed speakers and dovish ECB speakers . The USD index (+0.3%) trades higher to pare some of the losses yesterday while sentiment in Europe was further dampened by the than less than stellar German and Eurozone GDP data (EU GDP SA Y/Y 1.6% vs. Exp. 1.70%).
The only positive news perhaps for now is that WTI has seen a tick higher in European trade, attempting to break through resistance at the USD 42.00 handle. Both WTI and Brent have pared some losses seen in yesterday's session after DoE's printed a greater build than expected, however prices remain near 2 month lows.
Gold prices saw some downside overnight in line with the losses seen across the metals complex following the mild recovery in the USD coupled with sharp losses in Chinese bourses , which saw palladium decline 13% on the week which is the most since 2010 and copper trade at 6 %yr lows amid growing concerns over China.
Looking ahead, on the US calendar today we have US retail sales and University of Michigan sentiment as well as comments from ECB's Mersch and Fed's Mester.
Top Overnight News:
Euro-Area Growth Misses Estimates as ECB Ponders More Stimulus: Germany, France GDP each rose 0.3% in 3Q; Italy, Netherlands, Portugal miss economist estimates
ChemChina Said in Talks to Buy Swiss Agricultural Giant Syngenta: ChemChina offered ~449 francs a share, which values Syngenta at ~41.7b francs ($42b) according to people familiar with matter
IEA Says Record 3 Billion-Barrel Oil Stocks May Weaken Prices: Oil stockpiles have swollen to a record because of strong production in OPEC, elsewhere
China to Double Margin Requirement for Stocks Amid Rebound: Requirements will be raised to 100% from 50% starting on Nov. 23, the Shanghai and Shenzhen bourses said in statements
HSBC Names Axa CEO and Former Diageo Chief to Board Amid Revamp: Bank hired MWM Consulting earlier this year to find new directors, one of whom may eventually succeed Chairman Flint, people familiar said in April
BOJ Is Said to See GDP Report as Unlikely to Change Price View: Officials acknowledge that risk for prices and economy are skewed to downside
Cerberus Bests Goldman, JPMorgan to Buy $19.8 Billion U.K. Loans: Comes as Chancellor of the Exchequer Osborne winds down the remnants of Northern Rock to cut the nation's debt
Goldman Says Only China Can Rescue Metals as Mine Cuts Won't: Only a substantial rise in Chinese metals demand is likely to be sufficient to balance copper and aluminum markets
Extremist 'Jihadi John' Targeted in U.S. Airstrike on Syria: Islamic State extremist known as Jihadi John for his roles in videotaped executions of hostages was the target of airstrike; the Pentagon is assessing whether he was killed
Bulletin Headline Summary from Bloomberg and RanSquawk
European equities (Euro Stoxx: -0.3%) have traded in negative territory throughout the morning in line with their US and Asia-Pacific counterparts as dampened sentiment remains prevalent across asset classes
Looking ahead, today sees US retail sales and University of Michigan sentiment as well as comments from ECB's Mersch and Fed's Mester
Treasuries rise, headed for weekly gains across the curve as stocks slide amid expectations Fed may increase rates next month.
Euro-area GDP unexpectedly slowed in 3Q, rising 0.3% vs median expectation for 0.4%; Germany and France's economies each grew 0.3%, while Italy's expanded 0.2%
China moved to contain leveraged wagers on its stock market, raising margin requirements to 100% from 50% starting Nov. 23 as authorities seek to prevent a repeat of the excesses that led to a $5t rout earlier this year
Only a substantial rise in Chinese metals demand is likely to be sufficient to balance copper and aluminum markets, according to Goldman, which said recent output cut by miners aren't large enough to rescue prices
Oil stockpiles have swollen to a record of almost 3b barrels because of strong production in OPEC and elsewhere, potentially deepening the rout in prices, according to the IEA
Sweden's finance minister is defending her decision to crank up spending in order to cover the cost of absorbing hundreds of thousands of refugees from the Middle East
Germany is planning a balanced budget for the second year in a row even as Europe's biggest economy faces a record influx of refugees; EU6.1b in surplus revenue from 2015 will be shifted to next year to help pay for those costs
$7.65b IG priced yesterday, $750m HY. BofAML Corporate Master Index OAS +1 to +162, YTD range 180/129. High Yield Master II OAS widens 11bp to +613, YTD range 683/438
Sovereign 10Y bond yields lower. Asian and European stocks slide, U.S. equity-index futures mixed. Crude oil gains, copper and gold fall
US Event Calendar
8:30am: Retail Sales Advance, Oct., est. 0.3% (prior 0.1%)

Retail Sales Ex Auto, Oct., est. 0.4% (prior -0.3%)
Retail Sales Ex Auto and Gas, Oct., est. 0.4% (prior 0.0%)
Retail Sales Control Group, Oct., est. 0.4% (prior -0.1%)

8:30am: PPI Final Demand, Oct., est. 0.2% (prior -0.5%)

PPI Ex Food and Energy, Oct., est. 0.1% (prior -0.3%)
PPI Ex Food, Energy, Trade, Oct., est. 0.1% (prior -0.3%)
PPI Final Demand y/y, Oct., est. -1.2% (prior -1.1%)
PPI Ex Food and Energy y/y, Oct., est. 0.5% (prior 0.8%)
PPI Ex Food, Energy, Trade y/y, Oct., est. 0.5% (prior 0.5%)

10:00am: Business Inventories, Sept., est. 0% (prior 0%)
10:00am: UMich Consumer Sentiment, Nov. P, est. 91.5 (prior 90)
Central Banks
12:30pm: Fed's Mester speaks in Cleveland
DB's Jim Reid concludes the overnight wrap
Markets have also been struggling for composure since last Friday's strong payroll report. It's not been savage but the S&P500 is down -2,7% from the intra-day highs just after the number was released. Elsewhere the US HY ETF is down 1.7% and10yr UST yields about 10bps higher. Commodities have been worse hit with Oil now down -14% from its early month highs, much of which coming in the past week.
Indeed commodities were under pressure again yesterday as Brent and WTI fell -3.8% and -2.8% respectively. Copper fell -2% to the lowest since July 2009. The S&P 500 (-1.4%) suffered its worst day in 7 weeks. Credit spreads were also wider with secondary US cash bonds 3-5bps wider on the IG side. Sentiment was weighed down by somewhat hawkish Fed speak which clearly did little to ease the anxiety ahead of the December Fed meeting. The commodity weakness was perhaps also an ongoing reflection of the perceived sluggishness in China's underlying economy.
Indeed central bankers continue to be the main drivers on both sides of the Atlantic. In the US all three Fed speakers yesterday gave indications that the Fed are ready to hike with caveats about the pace of hikes. Even the usually dovish Dudley suggested the conditions for a monetary policy normalization could soon be satisfied and the risks of acting too soon and waiting too long as nearly balanced. Bullard and Evans did not provide much opposition to that even though Evans suggested that increases should be gradual. Bullard said there is 'no reason to continue to experiment with extreme policy settings' as labour market is running at the Fed's target and inflation is only slightly below.
On the other side of the pond Draghi's comments were dovish and actually helped European stocks rally early in the session but was progressively reversed as the day progressed (Stoxx 600 –1.62%) not helped by Fed speak or the rout in commodities. It's also not been a vintage European reporting season and yesterday's earnings tremor came from Rolls Royce (-19.57%) who issued their fourth profit warning in just over a year, during which its guidance suggested that profits would be more than a third below the current consensus estimates. These numbers add to the 84 percent of companies in the STOXX 600 that have reported Q3 results so far, of which 51 percent have met or beaten analyst's forecasts. However, only 47 percent have beat revenue expectations .
A closer look now at Draghi's comments yesterday. He was fairly cautious on growth and inflation and noted that the downside risk to global growth and trade are clearly visible. He also added that signs of a sustained turnaround in core inflation have somewhat weakened. Draghi basically signaled that more easing is coming and has added to the other ECB speakers this week. It now seems that an extention of QE and a cut in the deposit rate is inevitable with expectations for the size of the latter growing this week.
Back to markets and the overnight session in Asia hasn't improved the tone as key benchmark equity indices in Japan (-0.6%), China (-1.1%), Hong Kong (-2.0%) and Korea (-1.0%) are following the weak US lead. The weakness in commodity markets are also not helping. Asian credit spreads are largely following suit with the Asia iTraxx index 4bp wider even though new issues in Asia are generally breaking tighter overnight. Treasuries are little changed with the 2yr and 10yr at around 0.879% and 2.317%, respectively.
Looking at the day ahead we have more Fed speak later today (Mester and Fischer). Data watchers will be reasonably occupied with the release of US retail sales, PPI, business inventories and the first UofM sentiment print. Retail sales being a key barometer of US economic strength. In Europe we will get the advanced reading on Euroland Q3 GDP and the trade balance for September.