Merck & Co., Inc. MRK announced that its anti-PD-1 therapy, Keytruda (pembrolizumab), has been approved in Japan for previously-treated patients with urothelial carcinoma, a type of bladder cancer. This approval makes Keytruda eligible to be indicated for four types of cancer in Japan.
Notably, Keytruda has already been approved in the United States and the EU for the first and second-line treatments in patients with the aforementioned indication. Apart from bladder cancer, Keytruda is approved for many malignant disease types and treatment settings including lung cancer, melanoma, head and neck cancer and classical hodgkin lymphoma. It is also approved as a combination therapy with Eli Lilly's LLY lung cancer drugs, Alimta (pemetrexed) and carboplatin (pem/carbo).
Merck's shares have lost 6.6% in the last year, comparing unfavorably with the 16% increase of its industry.

The approval was based on positive data from phase III KEYNOTE-045 study. The trial outcomes showed a clinically meaningful and improved overall survival (OS) benefit of Keytruda compared with chemotherapy in patients with the given indication. In the program, Keytruda demonstrated a 27% reduction in death risk as compared to chemotherapy. Moreover, the median OS was 10.3 months in the Keytruda arm in comparison to 7.3 with chemotherapy.
Significantly, Merck commercializes Keytruda in Japan in collaboration with Taiho Pharmaceutical company.
Per the company's press release, the incidence of bladder cancer in Japan is anticipated to increase over time. Approximately, 66,000 patients are detected with bladder cancer in the country with 21,000 new cases diagnosed in 2015. Hence, the market opportunity for Keytruda is fairly wide in the country.
Keytruda fetched in global sales of $2.5 billion in the first nine months of 2017, up 173% year over year. Sales continue to be driven by the launch of new indications globally. Keytruda sales in the United States gained particularly from a strong momentum in the new indication of the first-line therapy of lung cancer. Outside the United States, Keytruda sales were primarily driven by the melanoma indication.
We remind investors that Keytruda is the first anti-PD-1 therapy to gain an FDA approval and is being studied for more than 30 types of cancer in above 650 studies including 400 plus combination trials.
Merck & Company, Inc. Price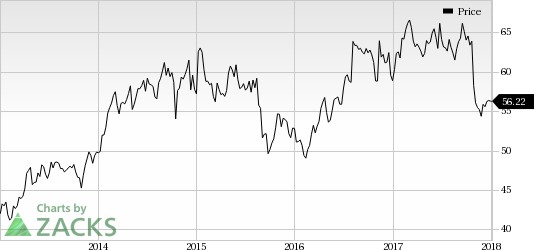 Zacks Rank & Key Picks
Merck carries a Zacks Rank #3 (Hold). Two better-ranked stocks in the health care sector are Sucampo Pharmaceuticals, Inc. SCMP and AcelRx Pharmaceuticals, Inc. ACRX, both carrying a Zacks Rank #2 (Buy). You can see the complete list of today's Zacks #1 Rank (Strong Buy) stocks here.
Sucampo's earnings per share estimates have moved north from $1.15 to $1.19 for the current year in the last 60 days. The company delivered a positive earnings surprise in three of the trailing four quarters with an average beat of 15.63%. Share price of the company has surged 28.6% year to date.
AcelRx stock has seen the Zacks Consensus Estimate for current-year loss per share being narrowed from $1.03 to 99 cents over the last 30 days.
Investor Alert: Breakthroughs Pending
A medical advance is now at the flashpoint between theory and realization. Billions of dollars in research have poured into it. Companies are already generating substantial revenue, and even more wondrous products are in the pipeline.
Cures for a variety of deadly diseases are in sight, and so are big potential profits for early investors. Zacks names 5 stocks to buy now.
Want the latest recommendations from Zacks Investment Research? Today, you can download 7 Best Stocks for the Next 30 Days.
Click to get this free report
Eli Lilly and Company (LLY): Free Stock Analysis Report
Merck & Company, Inc. (MRK): Free Stock Analysis Report
Sucampo Pharmaceuticals, Inc. (SCMP): Free Stock Analysis Report
AcelRx Pharmaceuticals, Inc. (ACRX): Free Stock Analysis Report
To read this article on Zacks.com click here.
Zacks Investment Research