Deutsche Bank (NYSE:DB) had another bad quarter, current price 25.42 and continued to fall. Target price 26.62.
Deutsche Bank reports third quarter 2015 net loss of EUR 6.0 billion after specific items. Also DB has been slammed with a $258M fine over sanction violations.
But for many people it was not a very big surprise. As for some experts, DB is a ticking time bomb if not handled with care.
Of the total penalty amount, the German banking giant is set to pay to the New York State Department of Financial Services ("NYDFS") and to the Federal Reserve, according to a release by the NYDFS.
Recently, the bank announced plans to axe nearly 35,000 employees and close operations in 10 countries, mostly in the Latin American region as part of its restructuring overhaul.
The problem with DB all these years has been that it is a very leveraged bank with a bloated balance sheet. And why is this a problem? Because the more assets you have, the more stuff you have to impair and write down if something goes wrong.
High leverage means possible disability, that can destroy equity very fast and cut out shareholders many times over. In comparison with American Banks like Citigroup and JPMorgan, DB is almost 2-3 times worse capitalized. Deutsche Bank have too large and complex a balance sheet, currently earning returns that do not fund our levies or generate an acceptable risk-adjusted return on leverage-based capital.
So never trust a financial institution with a highly leveraged balance sheet, even if you believe what management is saying, even in the best of times. Looking at DB's chart, that is a good picture showing bad times for German banking giant.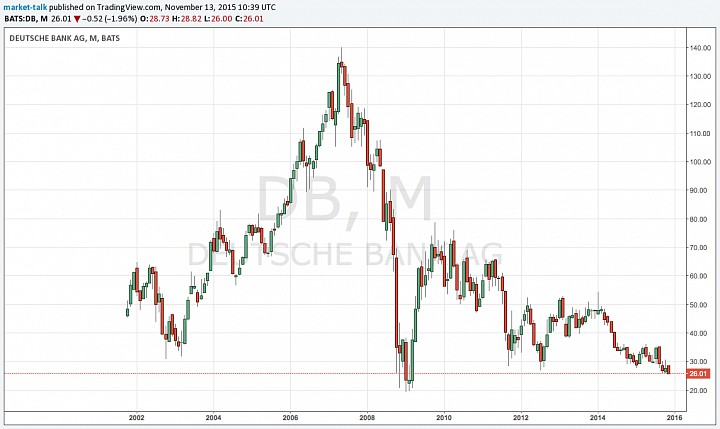 Also strategy of raising capital is not in shareholders interest - and raising capital will not solve the problem of "low financial returns and poor organic capital generation".
But another experts have different opinion. That managements reorganization plan is on the right direction, but investing in DB is still a risky proposition.