What Can Investors Expect from Alaska Air Group in 3Q15?
Alaska Air Group's forecast
In its review for the last quarter, Alaska Air Group said that it expects its capacity to grow between 10,325 and 10,375 million for the third quarter. A 5.5% YoY rise in the company's unit costs (or CASM) was expected to follow the 8% YoY (year-over-year) capacity growth. The airline also expected to see its fuel price per gallon fall by about 40% to reach $2 per gallon for the current quarter.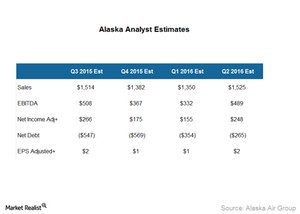 Analysts expect a positive surprise
Based on the company forecasts, Wall Street analysts have revised their estimates slightly upwards.
Analysts estimate 3% YoY growth in...
More