Cadence Design Systems, Inc. CDNS reported earnings of 35 cents per share for third-quarter 2017, beating the Zacks Consensus Estimate by a penny. The figure surged 17% on a year-over-year basis and was in line with the upper end of the guided range of 33–35 cents per share.
Revenues increased 9% year over year to $485 million, beating the Zacks Consensus Estimate of $482 million. The top line also met the high end of management's expectation.
Notably, huge adoption of the company's digital and signoff, custom-analog and IP solutions and an expanding customer base backed its impressive year-over-year growth.
Cadence stock has gained 69.4% year to date, substantially outperforming the 31.8% rally of the industry it belongs to.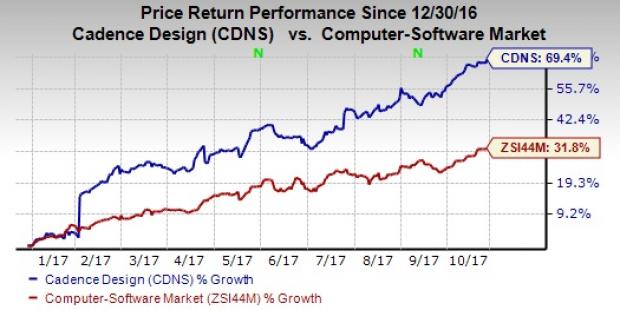 Quarter Details
Product wise, revenues from Digital and signoff grew 15% year over year, with deeper market penetration and increasing customer base. IP revenues grew 14% year over year as the company's new refined strategy gained momentum. Custom and analog design solutions grew 12% year over year driven by increasing requirement of the company's advanced node custom design and simulation solutions.
Management noted that Quantenna Communications adopted the company's flagship products Genus Synthesis, Innovus Implementation and Tempus during the quarter. The company expanded its association with a prominent memory chip maker in Asia for LPDDR4, PCI Express Gen4, NAND flash PHYs and Tensilica DSPs.
Notably, the company's newly launched Protium S1 FPGA-based prototyping system found 17 takers during the quarter with nine repeat orders. Additionally, Cadence's well-known emulator, Palladium Z1 won an investment from Marvell for extending emulation of its engineering products.
Moreover, the company's audio signal processor, Tensilica added 10 customers during the quarter, which included five from China. Of these Chinese customers, four were new additions. The company's parallel logic simulator, Xcelium witnessed the addition of 15 new customers in mobile, communication, storage and memory segments.
Based on the capabilities of the company's mixed signal solutions, it signed agreements with Dialog Semiconductor, becoming the latter's electronic design automation (EDA) partner. Cadence also extended its partnership with Hitachi and the InvenSense unit of TDK during the third quarter.
Notably, the company delivered an IP portfolio for the automotive design of Taiwan Semiconductor Manufacturing Company TSM 16nm FinFET Compact (16FFC) technology and also collaborated with it for the advancement of design innovation of 7nm FinFET Plus for high-performance computing (HPC) systems.
Additionally, during the quarter, the company partnered with Xilinx XLNX and Taiwan Semiconductor Manufacturing Company for the development of Cache Coherent Interconnect for Accelerators (CCIX) based on 7nm FinFET technology scheduled for a 2018 delivery. The fields of big data analytics, search, machine learning and 5G wireless are expected to benefit from this innovation.
Margins and Balance Sheet
Non-GAAP operating margin was 27.5% on the back of higher software and IP revenues and a stringent cost approach.
The company ended the quarter with cash and short-term investments of $682 million. The long-term outstanding debt was $650 million at the end of the quarter. The company repurchased shares worth $50 million in the third quarter. Operating cash flow was $89 million.
Guidance
For the fourth quarter of 2017, Cadence expects total revenue to be in the range of $490 million to $500 million and non-GAAP earnings in the range of 38 cents to 40 cents per share. Non-GAAP operating margin is expected to be around 30%.
For 2017, revenues are now expected to be in the range of $1.93 billion to $1.94 billion; non-GAAP operating margin is expected to be approximately 27% to 28% and non-GAAP earnings are guided in the range of $1.39 to $1.41 per share. Operating cash flow is expected to be in the range of $450–$480 million.
Zacks Rank and Stock to Consider
Cadence has a Zacks Rank #3 (Hold).
A better-ranked stock in the broader technology sector is NVIDIA Corp. NVDA, sporting a Zacks Rank #1 (Strong Buy). You can see the complete list of today's Zacks #1 Rank stocks here.
The long-term earnings growth rate for NVIDIA is projected to be 11.2%.
Wall Street's Next Amazon
Zacks EVP Kevin Matras believes this familiar stock has only just begun its climb to become one of the greatest investments of all time. It's a once-in-a-generation opportunity to invest in pure genius.
Want the latest recommendations from Zacks Investment Research? Today, you can download 7 Best Stocks for the Next 30 Days.
Click to get this free report
Cadence Design Systems, Inc. (CDNS): Free Stock Analysis Report
NVIDIA Corporation (NVDA): Free Stock Analysis Report
Xilinx, Inc. (XLNX): Free Stock Analysis Report
Taiwan Semiconductor Manufacturing Company Ltd. (TSM): Free Stock Analysis Report
To read this article on Zacks.com click here.
Zacks Investment Research