Walt Disney Co. (DIS)'s Guardians of the Galaxy, the new group of movie superheroes mined from Marvel's comic-book lineup, officially became Hollywood elite as stars of the biggest summer film in the U.S.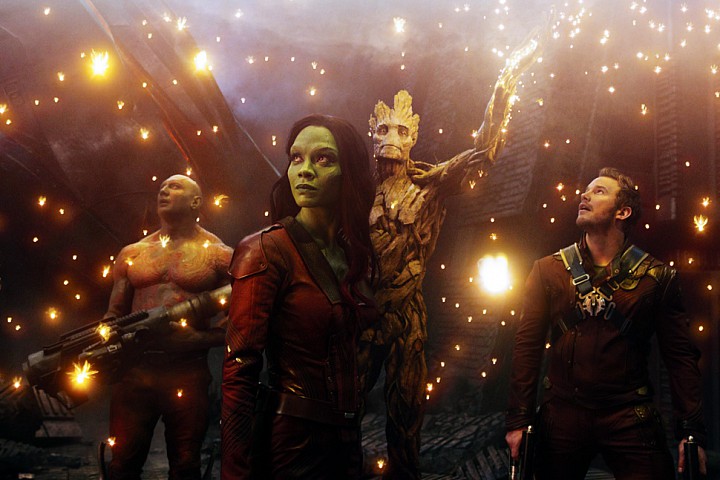 "Guardians of the Galaxy," released Aug. 1, took in $17.6 million over the weekend to lead in U.S. and Canadian theaters, Rentrak Corp. said yesterday in an e-mailed statement, vaulting past "Transformers: Age of Extinction," which had been No. 1. The Disney film, about a lesser-known group of misfit Marvel characters, has generated $251.9 million in domestic ticket sales as of the weekend, making it No. 1 for the season.
"The self-deprecating humor and quirky cast of characters in 'Guardians of the Galaxy' make it an irresistibly entertaining and fun summer ride," Paul Dergarabedian, senior analyst at Rentrak Corp., said in an e-mail. "That, along with the classic rock soundtrack, have made it the cool movie to see in the late summer."
The tally caps another strong performance for Disney and its Marvel division, which last year had the biggest hit of the summer with "Iron Man 3," and led the 2012 season with "The Avengers." The studio boasts the biggest U.S. hit of 2014 as well, with "Captain America: The Winter Soldier," released on April 4, before summer began. That film has earned $259.8 million in domestic theaters, and $714.1 million worldwide.
"Transformers," from Viacom Inc. (VIAB)'s Paramount Pictures, has produced $243.8 million in domestic ticket sales. Released on June 27, the film took in $385,000 over the weekend, according to Rentrak.
Global Sales
Worldwide, "Transformers" is still the top movie for the summer and for the year, with $1.05 billion in global revenue, according to Box Office Mojo. "Guardians" has $489.5 million in worldwide sales and is unlikely to catch up.
While the international box office makes up a growing portion of film revenue, the U.S. remains the largest market. The sales that studios receive for movies in the home-entertainment market -- cable TV showings, DVDs and movie downloads, for example -- closely follow the domestic box office, and are in some cases tied directly to ticket sales.
Studios also keep a bigger share of U.S. ticket sales than in some other markets. In China, where "Transformers" has grossed more than $300 million, according to Box Office Mojo, Hollywood gets less than a quarter of the box-office proceeds. That compares with 50 percent or more in the U.S.
Officials at Disney, based in Burbank, California, and Paramount, declined to comment.
Scrappy Cast
With "Guardians," Marvel brought a scrappy, less-known group of comic-book heroes to cinemas, with an eye toward developing a new film series. The studio spent $170 million making the movie, according to Box Office Mojo. A sequel is planned for 2017, Disney said.
Chris Pratt, known for NBC's "Parks & Recreation" sitcom, stars as Peter Quill, an American pilot who becomes the target of a unrelenting bounty hunt in space. He's pursued after stealing a mysterious orb coveted by the super-villain Ronan, played by Lee Pace.
Pratt is joined by co-stars Zoe Saldana, Dave Bautista, and characters voiced by Bradley Cooperand Vin Diesel.
New Movies
Three movies made their debuts over the weekend.
"If I Stay," a Time Warner Inc. (TWX)'s Warner Bros. drama starring Chloe Grace Moritz, came in third at the box office with $16.4 million. The movie, adapted from a novel by Gayle Forman about a cellist whose life changes after a car accident, missed the $19.5 million forecast of BoxOffice.com.
Sony Corp.'s sports drama "When the Game Stands Tall" took in $9.1 million in its first weekend, placing fifth.
The movie charts the career of football coach Bob Ladouceur, who took the De La Salle High School Spartans, from Concord, California, on a 151-game winning streak. It was projected to collect $11 million, and was received unfavorably by critics, generating a 19 percent positive rating on Rottentomatoes.com.
Also making its debut was "Frank Miller's Sin City: A Dame to Kill For," distributed by Weinstein Co. It placed eighth, generating $6.5 million. That's less than the $15 million it was forecast to make.
A follow up to the 2005 movie "Sin City," it stars Mickey Rourke, Jessica Alba and Eva Green and reunites co-directors Robert Rodriguez and Frank Miller. The film draws on Miller's "Sin City" graphic novels, introducing new tales about the town's inhabitants.
Summer Season
The summer season runs from the start of May through the U.S. Labor Day holiday, which falls on Sept. 1 this year. Producing hits during this period is critical for studios, which generate about 40 percent of their annual box-office revenue when children are on school break.
Overall, the summer season has been a disappointment. Domestic ticket sales were down 15 percent to $3.88 billion from the year-earlier period, according to Rentrak. Some studios shifted film releases to avoid conflict with the World Cup from mid-June to mid-July.
Others released clunkers like "Edge of Tomorrow," from Warner Bros. The Tom Cruise film cost $178 million to make, according to Box Office Mojo, and brought in $99.8 million in domestic sales.
Delays also played a role. Disney's Pixar division pushed back the release of "The Good Dinosaur" until November 2015 because the film wasn't ready, while Comcast Corp. (CMCSA)'s Universal Pictures postponed "Fast & Furious 7" until next year with the death of actor Paul Walker in an automobile accident.
Weekend sales for the top 10 films rose 19 percent to $100.1 million from a year earlier, Rentrak said. For the year to date, domestic ticket sales are down 5.1 percent to $7.05 billion.