By Sarah Roden
On August 18, the FDA approved Addyi, the first treatment for hypoactive sexual desire disorder in women. Although Addyi, commonly known as "Viagra for women," is developed by a privately held company, Sprout Pharmaceuticals, analyst Debjit Chattopadhyay of Roth Capital was optimistic on the effect this FDA approval will have on Sarepta Therapeutics Inc (NASDAQ:SRPT). As a result, Chattopadhyay maintained a Buy rating on the Sarepta with a $45 price target.
Sarepta Therapeutics is in the midst of Phase 2 testing for eteplirsen, a pipeline treatment for Duchenne Muscular Dystrophy, or DMD. The rare disease results in a degenerative neuromuscular disorder that affects approximately one of 3,500 boys around the world. Patients with DMD suffer from severe muscle loss and pre-mature death.
Chattopadhyay commented that the approval of Addyi bodes well for other pipeline treatments because it demonstrates the FDA's flexibility, "especially for first-in-class therapies." The analyst is optimistic that Addyi's approval will pave the way for eteplirsen since Addyi is only intended to treat a clinical disorder while eteplirsen is a life-saving experimental therapy.
Sarepta completed the New Drug Application for eteplirsen in late June. The FDA has already designated the pipeline treatment as an Orphan Drug as well as granted it Fast Track Status. Sarepta last released earnings on August 6, in which interim CEO and Chief Medical Officer Edward Kaye commented, "We believe the recently published FDA draft guidance for [DMD] illustrates that the FDA is being responsive to the needs of patients and is open to providing appropriate flexibility in cases of unmet medical need and serious and life threatening diseases, such as [DMD]." Furthermore, the report noted that the company had secured a $40 million senior secure term loan. Half of the loan has been drawn been and the other half will become available when eteplirsen's NDA is accepted.
Chattopadhyay believes eteplirsen's NDA will be accepted in a few weeks and he is not concerned about the possibility of a Refuse to File letter. The analyst explains, "[Findings] from the first three biopsies were independently validated, based on feedback from the agency. Positive findings support the mechanism of action of eteplirsen because deficiency of functional dystrophin appears to be the proximate cause of the symptomatic and functional consequences of dystrophinopathies." He concluded, "We continue to believe de novo dystrophin serves as a surrogate, which is reasonably likely to predict clinical benefit, and eteplirsen merits an accelerated approval."
Debjit Chattopadhyay has rated Sarepta Therapeutics 23 times since May 2014, earning a 91% success rate recommending the stock and an +81.4% average return per SRPT rating when measured over a one-year horizon and no benchmark. Overall, the analyst has a 60% success rate recommending stocks with a +24.7% average return per rating.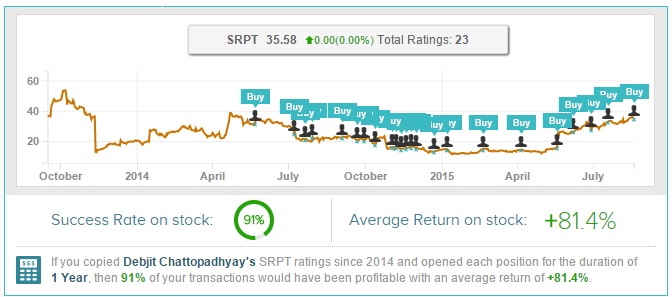 According to the 8 analysts polled by TipRanks in the last 3 months, 4 are bullish on the stock and 4 are neutral. The average 12-month price target for Sarepta is $38.29, marking a 7% potential upside from where shares last closed.