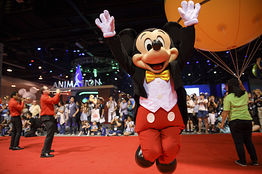 Cowen & Co.'s Doug Creutz put out a note today titled "stop the insanity," and said it would be bad for both companies. On the Fox side, he thinks it would be "suicide" to be left with networks but no content, leaving it (aside from Fox News, which has its own problems) at the mercy of content providers.
As for Disney:
Investors who are bullish on Disney like it for the non-TV assets. So why would Disney want to increase its exposure to TV? Disney already has plenty of scale, so adding scale isn't that helpful (and it makes the business more difficult to manage for whoever Iger's successor is). Fox's TV production assets and the FX network have no synergy with the rest of Disney's content engine. As far as the film business goes, we think Disney's existing studio is about perfect as-is. We think merging in Fox would likely ultimately result in a significant diminution of combined output - which would probably be good for the industry as a whole, but Disney shareholders don't want to see Disney incurring the cost of making that happen. Bringing back X-Men and Fantastic Four doesn't really help because Disney's future Marvel slate is already fully stocked out for years. A significant portion of Avatar's economics accrue to James Cameron and other principals, so that property wouldn't be nearly as attractive as Star Wars/Marvel (and we also note that one successful film does not a franchise make.)
Yet Credit Suisse's Omar Sheikh writes that it's "hard to argue" against the deal:
Our initial view is that it would be hard to argue against the rationale for this deal, and at a valuation of $47bn (10x 2018 "core" FOXA EV/EBITDA, including synergies) could easily be financed by DIS. If confirmed, this transaction would obviously be welcomed by both sets of shareholders, and would also drive a re-rating of the whole sector, in our view.
B. Riley's Barton Crockett thinks that the deal has its problems, but that it makes sense thematically, as traditional media has to bulk up to gain scale to compete with internet giants and Netflix (NFLX), which have very deep pockets.
From his note:
How this could make sense for Disney. Disney (indeed everyone) we believe would love to have Fox's market leading TV network and over the top position in India. Fox's networks are also strong in Latam, while Fox's movie studio has big IP, including James Cameron's Avatar (the basis for a big new attraction this year in Animal Kingdom at DisneyWorld) and X-Men (sub-licensed from Disney's Marvel). Fox's entertainment programming is clearly meaningful with The Simpsons and the FX and NatGeo networks. This content could bolster Disney's scale with its direct entertainment SVOD launch in 2019
Why Fox could be interested. A generational transition to Lachlan and James could be sparking new openness to change. Also, Fox has struggled some in movies, where Disney has excelled. Ahead of Disney's 2019 SVOD launch, Fox could also be thinking that its better to partner than fight. The example of CBS also argues that the news and sports focused remainco, anchored by Fox News, Fox broadcast, and TV stations, could be viable.
Disney is up 2% and Fox is up 3.7% in recent trading.
More