Following last night's ADB China growth downgrade, and warnings from The IMF's Lagarde that a "China slowdown is a major risk to the global economy," the weakness seen in Europe and US is continuing across AsiaPac tonight ahead of China's much-watched PMI data (though we are not sure why - since no "bad news" excuse is needed to enable super-easy policy). With Xi in the US, one would imagine a 'beat' for PMI will be engineered, although industrial metals are extending their losses. Credit markets area nxious with Malaysia CDS at 2011 highs, Philippines highest since 2014, and China back on the rise. Xi begins his speech tonight reminding The Fed that China "is the biggest developing nation in the world," and its economy "is stable" despite Yellen's fears.
President Xi live from Seattle...
*XI SAYS CHINA DREAM IS THE PEOPLE'S DREAM
*XI SAYS CHINA IS BIGGEST DEVELOPING NATION IN THE WORLD
*CHINA HAS 200M PEOPLE THAT LIVE IN POVERTY, XI SAYS
*XI SAYS CHINA HAS 300M MIDDLE-INCOME EARNERS
*XI SAYS MORE THAN 85 MILLION CHINESE LIVE WITH DISABILITIES
*DEVELOPMENT IS TOP PRIORITY FOR CHINA, XI SAYS
*CHINA ECONOMY WILL MAINTAIN STABLE, RELATIVE FAST GROWTH: XI
*CHINA'S ECONOMY IS IN REASONABLE RANGE, XI SAYS
*CHINA TO MAINTAIN MEDIUM TO HIGH GROWTH RATE: XI
*XI SAYS CHINA TO AVOID PANIC ON STOCK MARKET
*XI SAYS CHINA'S STOCK MARKET HAS REACHED PHASE OF SELF-RECOVERY
*CHINA OPPOSED TO CURRENCY WARS: XI
*YUAN RATE DOESN'T HAVE FOUNDATION FOR CONTINUOUS FALL, XI SAYS
*CHINA WON'T DEVALUE TO BOOST EXPORTS: XI
*CHINA'S DEVELOPMENT MUST RELY ON REFORM, XI SAYS
*XI SAYS CHINA WILL NEVER CLOSE ITS OPEN DOOR TO OUTSIDE WORLD
*CHINA WON'T CHANGE POLICY FOR OVERSEAS INVESTMENT, XI SAYS
*CHINA WELCOMES COOPERATION WITH MULTINATIONAL COS., XI SAYS
*CHINA IS A STAUNCH DEFENDER OF CYBER SECURITY, XI SAYS
*XI SAYS CHINA READY TO SET UP CYBERCRIME MECHANISM WITH U.S.
*CHINA TO SET UP DIALOGUE WITH U.S. ON FIGHTING CYBER CRIME: XI
*CHINA TO CONTINUE FIGHT AGAINST CORRUPTION, XI SAYS
*CHINA STICKS TO PEACEFUL DEVELOPMENT PATH, XI JINPING SAYS
*CHINA WON'T SEEK POWER EXPANSION, XI SAYS
*XI WELCOMES U.S. TO JOIN ASIAN INFRASTRUCTURE INVESTMENT BANK
*DISAGREEMENT BETWEEN CHINA, U.S. IS UNAVOIDABLE, XI SAYS
And then this!!
*XI SAYS CHINA WILL TREAT ALL MARKET PLAYERS FAIRLY
Apart from short-sellers, right?
*  *  *
First, for your viewing pleasure, here is USDJPY ripping higher on the Japanese open... despite Japan being closed...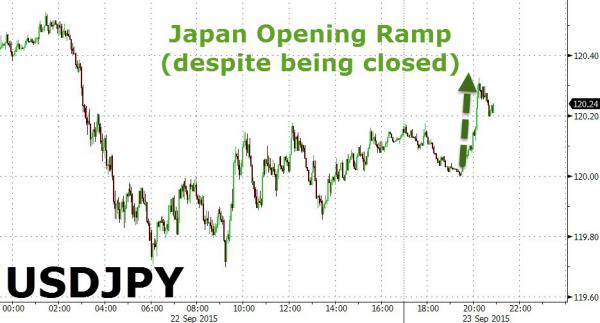 Because Kuroda never takes a day off!!!
And then the propaganda began...
*CHINA 7% OF ECONOMIC GROWTH IS CREDIBLE: NDRC
And so was The Fed to most people until last Thursday.
*  *  *
The IMF stuck its beek in again...
*LAGARDE SAYS GLOBAL PRODUCTIVITY SLOWDOWN IS TROUBLING
*LAGARDE SAYS CHINA SLOWDOWN IS MAJOR RISK FOR GLOBAL ECONOMY
China also announced new initiatives to ponzi-up the finance system...
*CHINA CITY BANKS TO PROVIDE LIQUIDITY TO EACH OTHER: CHINA NEWS
Or "pass the hot potato collateral chain of counterparty risk" as some in The West might call it.
Industrial metals continue to tumble...
Metals extended losses in London ahead of a Chinese factory gauge expected to show the country's manufacturing sector in contraction for a seventh month. Zinc traded near the lowest level since 2010.

 

Aluminum fell 0.3 percent, adding to a 1.7 percent decline on Tuesday and continuing a sell-off across metals amid concerns about China's demand. Copper slid 0.2 percent after posting its biggest loss since July.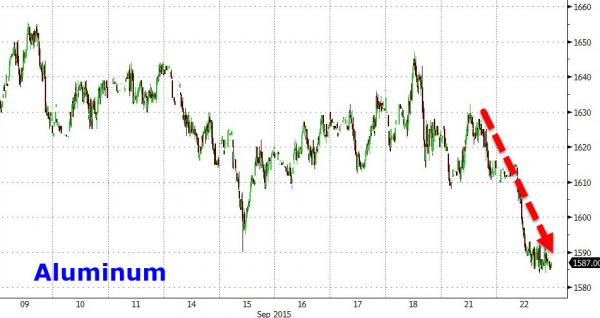 Credit markets are showing some strains...
Five-year

credit-protection

costs for Malaysia rose 19 bps yesterday, most since Jan. 6, to 206.5 bps, highest close since Oct. 2011, according to CMA New York data.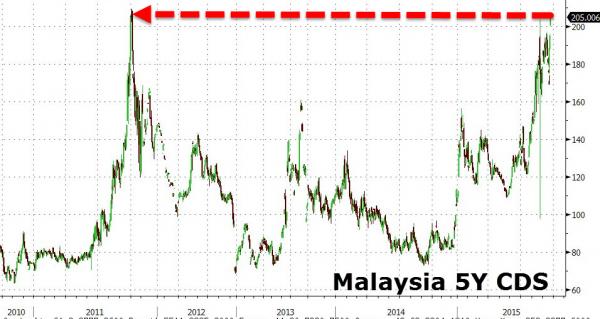 Philippines 5-year CDS rose 9 bps, most since Dec. 12, to 128.5 bps, highest daily close since Aug. 24
China's 5-year CDS rose 5 bps to 121 bps, highest close since Sept. 1
Marginb debt rose for the second day in a row...
*SHANGHAI MARGIN DEBT BALANCE CLIMBS FOR SECOND DAY
And China stocks are extending losses...
*FTSE CHINA A50 INDEX FUTURES FALL 1.3% IN SINGAPORE
*CHINA'S CSI 300 STOCK-INDEX FUTURES FALL 0.7% TO 3,218.8
And The PBOC devalued the Yuan fix for the 3rd day in a row...
*CHINA SETS YUAN REFERENCE RATE AT 6.3773 AGAINST U.S. DOLLAR
*CHINA SETS YUAN REFERENCE RATE AT WEAKEST LEVEL SINCE AUG. 31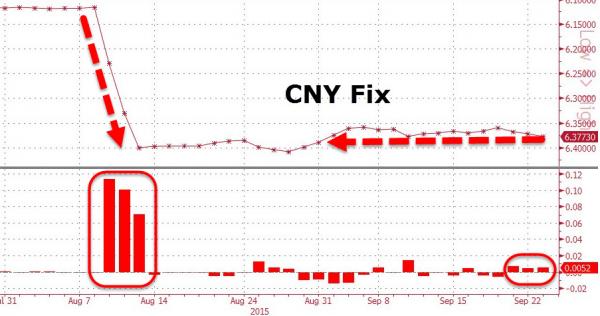 We leave it to Jim Chanos to sum it all up - from Xi's speech-of-pure-comedic-genius to devlauing the Yuan most in a month while explainin that they are not...
Chanos on Shanghai:"It's just a highly speculative market "It's like a pig on LSD. You don't know which way it's going to run."
Charts: Bloomberg