Update: according to Capital.gr, the preliminary agreement covers the following points:
4 not 6-month extension
no completion of current program
no new austerity measures
no unilateral actions
That said, according to the FT, there are still many details left to be decided despite the Greek agreement in the pre-meeting negotitations. To be sure, this wouldn't be the first time all parties had agreed on a draft, only for that draft to be replaced in the last minute.
* * *
Just minutes after convening - following a few hours of backroom shuttle diplomacy, Bloomberg reports:
1235ET GREEK OFFICIAL SAYS IT APPEARS EUROGROUP HAS REACHED AN ACCORD
1243ET GREEK GOVT SPOKESMAN SAYS NOT INFORMED OF ANY EUROGROUP DEAL
US equity and EURUSD markets are exuberant... We wonder how much mutiny Tsipras will face back at home...
The initial exuberance is fading fast...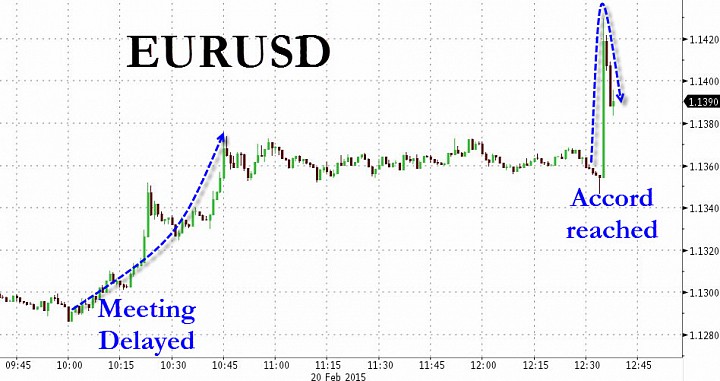 *  *  *
And then, after the accord was denied, the denial was subsequently denied by this: 

https://twitter.com/hashtag/Eurozone?src=hash

official says common text agreed in pre-meeting sessions that will now be presented to full

https://twitter.com/hashtag/eurogroup?src=hash

— Peter Spiegel (@SpiegelPeter)

https://twitter.com/SpiegelPeter/status/568828790685564928
Good luck trading.