The 4H chart shows a sideways market. The moving averages are all clustered together and travelling sideways. Price is trading right in the middle of these moving averages (200-, 100-, 50-period). The RSI has also been oscillating between 70 and 30. 
Indeed, if you only look at the 4H chart, there is not much reason to believe the market should be turning bullish. But when you look at the daily chart, you start to see the clues.

First of all, there was a rally from February through March from 88.24 to 96.50. After that, the market has indeed been trading sideways. 

There was a sharp bearish attempt in May that came down to 93.04. This broke below the previous rising trendline and brought the RSI below 40. That indicates an end to the prevailing uptrend, and loss of bullish momentum.

However, the market did not establish any bearish trend/momentum, as the RSI held above 30, and price rallied to eventually test the 96.50 high in July. So far, this high has held.

When you look back, the bearish swing in May now looks like a clear-out, While the common support was around 94.50, the dip was able to clear a lot of weaker bulls. Now there are stronger ones to push the market back up to 96.50. Also, there are likely more and more stops put just above the 96.50 high, which suggests a break above should send the pair flying at least in the short-term. 

There was actually another smaller-scaled clear-out in July when price broke below the common support around 95.25-30. The dip to 94.50 cleared another set of weaker bulls, and likely added more stops above 96.50.

In the past few days, price has held above the 95.30 support and above the moving averages which are still in bullish alignment. Thus AUD/JPY appears to be setting up for a bullish break toward fresh highs on the year.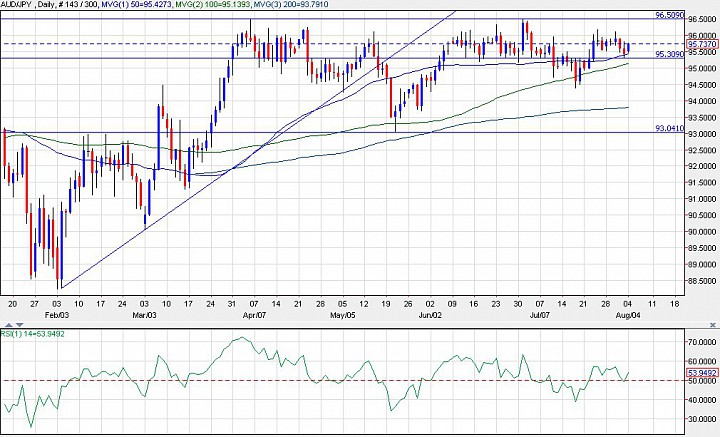 (AUD/JPY Daily Chart)
Central Banks:
The Bank of Japan and Reserve Bank of Australia will meet this week and release their monetary policy announcements on Friday. If price breaks above 96.50, look for a strong breakout rally. If price comes down to 94.50, see if it can hold north of this key support, given some elbow space around the risk events. If price holds south of 94.50, then the bullish outlook in this article should be shelved, and the focus should be back toward the 93.04 pivot, up to more common lows around 93.50.