Shares of Chipotle (CMG) enjoyed a late 2016 run that seems to have stabilized price action. When we look at the 4H chart, we see a bearish-neutral market. That is, CMG looks to have neutralized a bearish market and is now trading in consolidation mode. Within this context, there is still upside towards 440-445. But, looking at the manner of price action since mid-2016, we can probably expect more choppiness as long as CMG is still in consolidation mode. 

Chipotle 1/23 4H Chart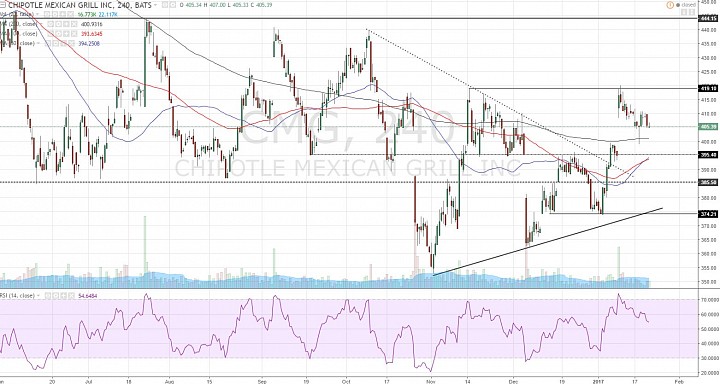 (click to enlarge)

Expecting Choppiness:
- Price came up to 420 before retreating in January. 
- Note that this was a previous resistance pivot. 
- Now, at this juncture, I would ask a simple binary question - is CMG likely turning into a sharp bullish trend, or is CMG likely still consolidating even though price action could also be developing into a bullish trend.
- If we expect choppiness, we can look for price to fall back towards 380-385.
- If price holds above 400 on the other hand, I would lean a little towards the sharp rally scenario with a target at the 440-445 highs. 
- I would anticipate upside towards these highs even if price came back down to 385, but it might take more time to develop because that's a more choppy scenario.