Shares of Twitter, Inc. TWTR are up 12% in the pre-market session after the company reported strong results for the third quarter of 2017. Non GAAP earnings per share of 10 cents came in much ahead of the Zacks Consensus Estimate of 6 cents per share. Revenues of $590 million were in line with the consensus mark.
The encouraging results overshadowed Twitter's revelation that it has been miscalculating monthly average users (MAUs) since 2014, which resulted in the company overstating MAUs.
In a letter to shareholders, Twitter said "We discovered that since the fourth quarter of 2014 we had included users of certain third-party applications as Twitter MAUs that should not have been considered MAUs. These third-party applications used Digits, a software development kit of our now-divested Fabric platform that allowed third-party applications to send authentication messages via SMS through our systems, which did not relate to activity on the Twitter platform."
Twitter, Inc. Price, Consensus and EPS Surprise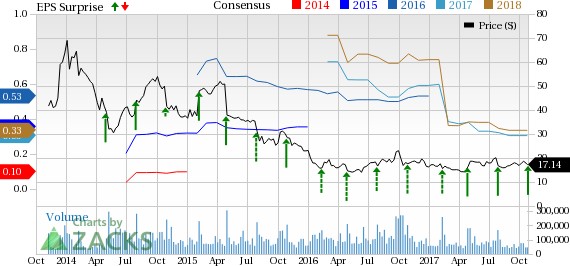 Twitter, Inc. Price, Consensus and EPS Surprise | Twitter, Inc. Quote
Twitter has now adjusted for the inflated numbers since the fourth quarter of 2016. The company doesn't have the data to reconcile numbers for the period prior to fourth quarter 2016. The company also added that daily average users (DAUs) were not affected.
In third-quarter 2017, Twitter reported adjusted MAUs of 330 million, up 1.2% sequentially and 4% on a year-over-year basis. There has been an adjustment of 1-2 million users per quarter since the fourth quarter of 2016, added Twitter.
Daily average users (DAUs) were up 14% year over year.
Quarterly Numbers in Details
The company incurred GAAP loss of 3 cents per share, compared with loss of 15 cents in the prior-year quarter.
However, on a year-over year-basis, revenues fell 4%, mostly due to winding of the TellApart business. Advertising revenues were down 8% in the quarter to $503 million. As far as ad metrics are concerned, there was a 99% year-over-year surge in ad engagements. However, cost per ad engagement was down 54%, given the shift to auto-play video, which has a lower cost-per-view compared to click-to-play.
Data licensing and other revenues increased 22% to $87 million.
Twitter earned nearly 43.7% of its revenues from international markets. International revenues increased 6% year over year to $258 million in the reported quarter while U.S. revenues decreased 11% year over year to $332 million.
Twitter's adjusted EBITDA rose 14% to $207 million and adjusted EBITDA margin was 35%.
The company reported an operating loss of $17.5 million, which compared favourably with a loss of $96.3 million reported in the year-ago quarter. Total cost and expenses were down 16.1% to $582.4 million.
Balance Sheet & Cash Flow
At the end of Sep 30, 2017, cash and cash equivalents (short-term investments) were $4.3 billion compared with $3.8 billion at the end of Dec 31, 2016. For the quarter, cash flow from operations was $239.9 million and adjusted free cash flow was $189.2 million.
Outlook
For the current quarter, adjusted EBITDA is expected to be in the range of $220–$240 million while EBITDA margin is likely to be in a band of 35–36%. Capex is expected to be $110 million and stock-based compensation is expected to be in the band of $90 million to $100 million.
Our Take
Lackluster user growth remains the primary concern for investors. Though good results somewhat overshadowed the MAU miscalculation snafu, the fact still remains that user base, despite the overstatement, is too small. At just 330 million users, it falls behind relatively new entrants like Instagram, which now has over 800 MAUs and dominant names like Facebook FB, which has 2 billion users.
The complex nature of the service has often been considered a major hindrance to user growth. Also, Twitter's user growth is marred by widespread abuse that has plagued its platform for awhile now.
Twitter has been taking various measures to combat all odds including curbing the widespread bullying on its platform. To help users to express more, the company has started testing the 280 character limit for tweets, doubling from the signature 140 limit since last month.
Twitter earlier had done away with calculating media attachments and @names in the count, enabling users to express more in tweets and revamped the app to improve user experience.
However, some changes have not been welcomed by hard core Twitter users. We believe changing features, which are unique to Twitter, might estrange existing users, which isn't an affordable proposition in face of decelerating user growth.
To boost ad revenues as well as user engagement, Twitter has been hawk eyed on boosting video content. It has signed several high profile streaming deals in the past year. At its last earnings conference, Twitter had called video its fastest growing ad format to offset declines in traditional Promoted Tweet and direct response ad formats. Also, Twitter's stringent cost control measures are impressive.
However, these are yet to yield the desired results as Twitter's ad revenue growth remains sluggish.The stock also has taken a massive hit, rising just 5% compared with the 26% rally seen in the industry.

In addition, stiffening competition for ad dollars from the likes of Alphabet GOOGL, Facebook and Snap Inc SNAP is highly concerning.
At present, Twitter carries a Zacks Rank #3 (Hold). You can see the complete list of today's Zacks #1 Rank (Strong Buy) stocks here.
Looking for Stocks with Skyrocketing Upside?
Zacks has just released a Special Report on the booming investment opportunities of legal marijuana.

Ignited by new referendums and legislation, this industry is expected to blast from an already robust $6.7 billion to $20.2 billion in 2021. Early investors stand to make a killing, but you have to be ready to act and know just where to look.
See the pot trades we're targeting>>
Want the latest recommendations from Zacks Investment Research? Today, you can download 7 Best Stocks for the Next 30 Days.
Click to get this free report
Facebook, Inc. (FB): Free Stock Analysis Report
Alphabet Inc. (GOOGL): Free Stock Analysis Report
Twitter, Inc. (TWTR): Free Stock Analysis Report
Snap Inc. (SNAP): Free Stock Analysis Report
To read this article on Zacks.com click here.
Zacks Investment Research