Brown & Brown, Inc.'s BRO affiliate Wright National Flood Insurance Company has recently received rating action from the credit rating giant A.M. Best. The rating agency affirmed the Financial Strength Rating of A- (Excellent) and the Long-Term Issuer Credit Rating of "a-" of Wright National. The outlook of the ratings remained stable.

Solid risk-adjusted capitalization and strong operational performance of Wright National, along with its parent company Brown & Brown's support and its exclusive reinsurance arrangement with the Federal Emergency Management Agency (FEMA) are represented by such ratings affirmation.

However, the innate challenges faced by Wright National, the risk associated with its narrow business portfolio as well as its dependence on the National Flood Insurance Program (NFIP) may offset the ratings affirmation.

Nonetheless, the credit rating giant believes that Wright National's management expertise and corporate strategy can strengthen the aforementioned ratings. Wright National's conventional underwriting practice, its operational goals plus transparency will help it further strengthen the positive ratings.
In addition, A.M. Best considers Wright National's enterprise risk management (ERM) practices to be appropriate, on the back of the unit's expertise in this sector, its conservative risk culture as well as proper risk controls.

The rating agency also anticipates Wright National to deliver some solid operational results in future. Besides, a consistent earnings performance will enable the affiliate to further support the efforts to control its growth and business writings, which are consistent with the capital and surplus position.

Rating affirmations or upgrades from credit rating agencies play an important role in retaining investor confidence and maintaining credit worthiness of a stock. Whereas, rating downgrades not only damage business but also increase the cost of future debt issuances. We believe that such ratings will help Brown & Brown hang on to investor confidence and write more businesses going forward.

Zacks Rank and Share Price Movement

Brown & Brown currently carries a Zacks Rank #4 (Sell). However, shares of the company have surged 16.09% in the last one year, though slightly underperforming the Insurance Brokerage industry's increase of 16.75%. We nonetheless expect a sustained operational performance apart from a robust capital and liquidity position to help the stock turn around in the near term.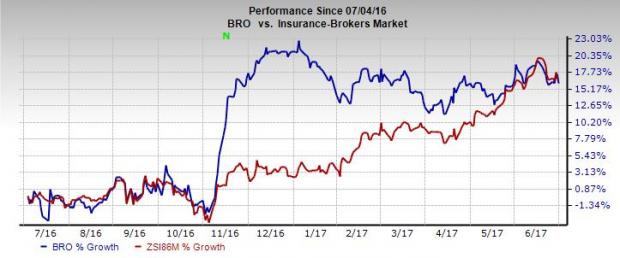 Stocks to Consider

Some better-ranked stocks from the insurance industry are Assurant, Inc. AIZ, Cigna Corporation CI and FBL Financial Group, Inc. FFG. Each stock carries a Zacks Rank #2 (Buy). You can see https://www.zacks.com/stocks/buy-list/?ADID=zp_1link&ICI... _1link">the complete list of today's Zacks #1 Rank (Strong Buy) stocks here.
Assurant offers risk management solutions for housing and lifestyle markets worldwide. The company has delivered positive surprises in three of the last four quarters with an average beat of 6.82%.

Cigna provides insurance plus related products and services in the United States and internationally. The company has delivered positive surprises in three of the last four quarters with an average beat of 1.35%.

FBL Financial sells individual life insurance and annuity products. The company has delivered positive surprises in two of the last four quarters with an average beat of 1.98%.
5 Trades Could Profit "Big-League" from Trump Policies
If the stocks above spark your interest, wait until you look into companies primed to make substantial gains from Washington's changing course.
Today Zacks reveals 5 tickers that could benefit from new trends like streamlined drug approvals, tariffs, lower taxes, higher interest rates, and spending surges in defense and infrastructure. See these buy recommendations now >>
Want the latest recommendations from Zacks Investment Research? Today, you can download 7 Best Stocks for the Next 30 Days.
Click to get this free report
Brown & Brown, Inc. (BRO): Free Stock Analysis Report
Assurant, Inc. (AIZ): Free Stock Analysis Report
Cigna Corporation (CI): Free Stock Analysis Report
FBL Financial Group, Inc. (FFG): Free Stock Analysis Report
To read this article on Zacks.com click here.
Zacks Investment Research