With more consumers inclining toward healthy offerings, companies in the Consumer Staples sector are gradually widening their organic product assortments. Sources revealed that Anheuser-Busch InBev SA/NV BUD is on track to acquire Hiball – manufacturer of healthy, clean and premium energy drinks as well as a provider of organic sparkling water and juices under its Alta Palla brand.

Terms of the transaction, which is expected to close in the third quarter of 2017, remained under covers. Notably, the organic food space has witnessed compound annual growth rate of 15.3% in the last four years, and currently boasts a market worth over $11 billion in the country.

How will Hiball's Buyout Impact BUD?

Based in San Francisco, Hiball was founded a little over a decade back. With a perfect mix of guarana, ginseng, caffeine and certain important vitamins, the company's energy drinks and sparkling water fall in line with today's changing trends. As consumers' demand for healthy, natural and energy-boosting products is growing considerably, Hiball has generated sales worth roughly $40 million over the past one year, as reported by The Wall Street Journal.

The introduction of Hiball's brands is likely to enhance AB InBev's products portfolio and solidify its network by offering innovative products. Thus, we believe that Hiball's addition to AB InBev's will augment the latter's top line. On the other hand, the move will benefit Hiball by solidifying its customer base, while maintaining its brand culture and focus on organic ingredients.

AB InBev's Portfolio Diversification On Track

Hiball's acquisition marks another milestone in AB InBev's commitment toward portfolio diversification. Given the accelerated shift toward low and no alcohol products, the company remains focused on undertaking new ventures to meet changing consumer demand. Incidentally, this world's largest brewer teamed up with Starbucks Corporation SBUX last year to provide Teavana, a ready-to-drink tea. Dr Pepper Snapple Group, Inc.'s DPS deal with Bai Brands (low-calorie, coffee-fruit drinks maker) and Pepsico, Inc. 's PEP buyout of KeVita Inc. (producer of fermented probiotic and kombucha beverages) are evidence of other beverage players expanding into the fast-growing healthy and wellness categories.

Coming back to AB InBev, this Belgian brewer keeps coming up with near beer alternatives along with no- and low-alcohol beers to provide greater choices to consumers. In fact, management expects the low and no-alcohol beer category to account for about 20% of its global beer volumes by 2025. Also, AB InBev is expanding its presence in the craft beer space, which further underscores its practice of exploiting all possible growth opportunities.

These endeavors have helped this Budweiser owner to carve an impressive niche, thus emerging as the strongest player in the beer space. Also, these factors have led this Zacks Rank #2 (Buy) stock to rise 9.6% so far this year, falling in line with the sector it belongs to.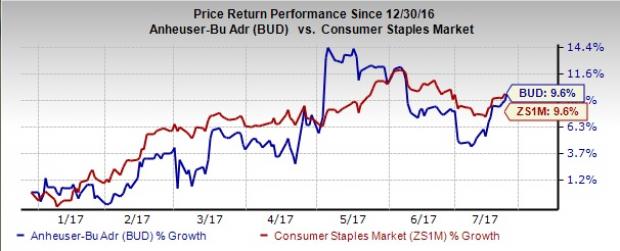 You can see the complete list of today's Zacks #1 Rank (Strong Buy) stocks here.

Will You Make a Fortune on the Shift to Electric Cars?

Here's another stock idea to consider. Much like petroleum 150 years ago, lithium power may soon shake the world, creating millionaires and reshaping geo-politics. Soon electric vehicles (EVs) may be cheaper than gas guzzlers. Some are already reaching 265 miles on a single charge.

With battery prices plummeting and charging stations set to multiply, one company stands out as the #1 stock to buy according to Zacks research.

It's not the one you think.

See This Ticker Free >>
Want the latest recommendations from Zacks Investment Research? Today, you can download 7 Best Stocks for the Next 30 Days.
Click to get this free report
Anheuser-Busch Inbev SA (BUD): Free Stock Analysis Report
Dr Pepper Snapple Group, Inc (DPS): Free Stock Analysis Report
Pepsico, Inc. (PEP): Free Stock Analysis Report
Starbucks Corporation (SBUX): Free Stock Analysis Report
To read this article on Zacks.com click here.
Zacks Investment Research