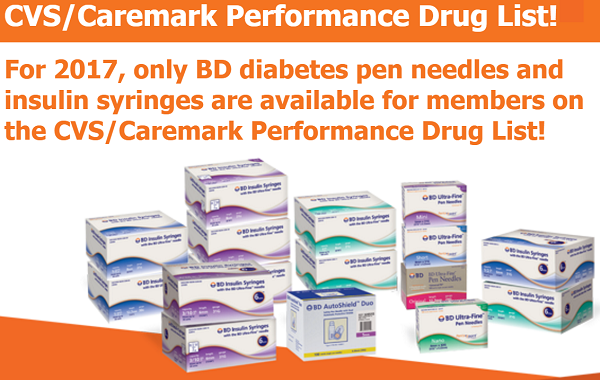 According to the latest e-Pharm alert, an industry messaging system for pharmacists and technicians; For 2017, Becton, Dickinson and Company (BDX) pen needles and insuling syringes are being moved into the "Performance Drug List" at CVS/Caremark (CVS). This means that people on Caremark health plans will pay the lowest copays when using BD products. Caremark manages some of the largest Medicare D programs in the country.
I've talked about these products before. As a pharmacy technician, they are the most requested product for diabetic care management. Patients who had previously tried needles from any other manufacturer would consistently come back and demand BD needles every time. I can't even think of another manufacturer by name, that's how popular these are. The fact that they are moving to preferred formulary means that BD has been able to minimize their costs of manufacturing them, and it will also improve their profit margins. Expect other healthcare plans to follow Caremark's lead.
I am personally (un?) fortunate enough to be a type II diabetic, and am currently using a slow-acting insulin (Tresiba by Novo Nordisk (NVO) in case you're curious), and I use BD 32 guage, 5/32" pen needles with them. 
These little guys:

They are completely painless, with the rare exception being when I have just used an alcohol swab and haven't quite waited long enough for it to dry. Even then though, you still feel almost nothing. I still use oral medications alongside these injections, but if I had my way, I'd switch to exclusively injections, as I only have to do this once a day. It's a lot easier to manage the amount of medicine with the pen needles than with pills.
Strong growth in a growing industry.
Although the stock price has almost tripled over the last 5 years, there is still plenty of room to grow as more boomers move to therapies that call for injectable insulin. Hate to break it to the natural health crowd, but those low-carb diets don't stop your pancreas from gradually losing function. Every diabetic, assuming that they live long enough, will require insulin injections at some point.
Actual risks to the continued growth of injectable products are probably in stem cell augmentation, but we are not at a stage where that's practical or affordable yet. If President Trump gets what he wants and motivates drug companies to aggressively cut costs, then it might be a good, long while before these therapies are mainstream.
ACTION TO TAKE:
Becton, Dickinson and Company is one of only a small number of pharmaceutical businesses that I am a big fan of. Most of the segment tends to be overpriced. BDX is trading at a modest 30x trailing earnings, with the company having seen revenues increase by nearly 50% over the last two years alone. Dividend growth has been right around 10% per year for nearly every year since 2003.
I recommend Becton, Dickinson and Company as part of a moderate-risk growth and income portfolio.