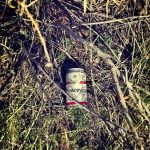 Walking the dogs on Sunday, we came upon this trash in the weeds.
Ironic, because it appeared one day after the horror in Virginia.
Ironic, because rather than thinking the tossed "America" beer can is a sign from the universe, instead it reminded me of those who think throwing trash from their cars is ok.
Ironic, because after last week's sell-off, I wonder if today's bounce was merely an opportunity to lighten longs.
Ironic, because I wonder if today offered a cheaper entry into countercyclical trades.
Ironic, because I wonder if today gave us a lower risk opportunity to go short (buy puts).
I wrote about Semiconductors over the weekend.
The ETF (SMH), a leader of the Modern Family this year, and "my fancy portal" …" serves two very important functions as a market predictor."
Today, SMH rose by 1.97% on light volume.
We got the buyers back, though without the volume. SMH went into an unconfirmed bullish phase.
Given the move higher, have the trash collectors come to clean up the side of the road?
Semiconductors improved in phase (needs a second day to confirm). Yet, the Russell 2000 (IWM), Retail (
More